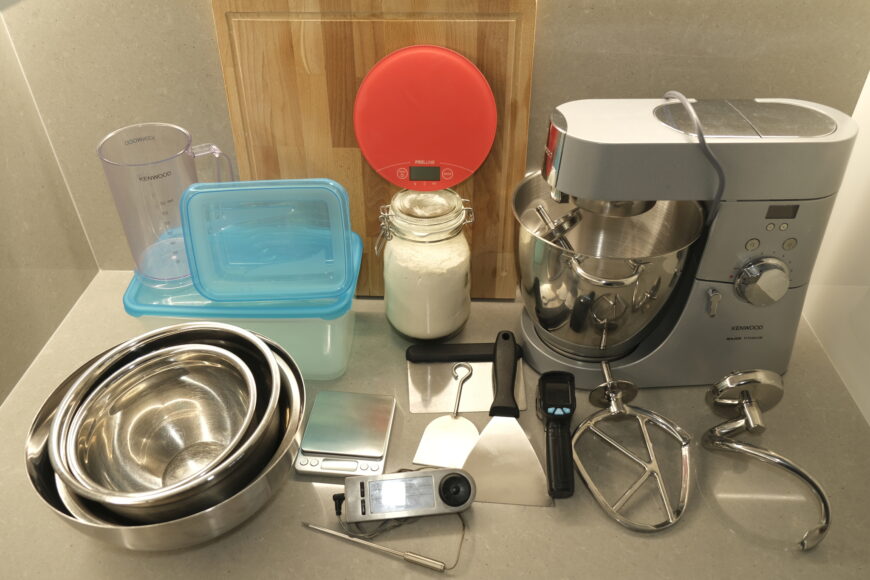 What do I need to prepare Pizza at home? (part 2)
Last Updated on August 22, 2021 by Stefano
A well equipped kitchen is home pizzaiolo best friend. In my previous article I introduced you to kitchen utensils and accessories for pizza that are mandatory to start. As previously said I think that you have everything in your kitchen for preparing pizza dough. Hence there is no reason not to start finding the excuse of missing accessories.
In this second blog post I want to talk you about what is nice to have and what I think is overestimated. Or let me put it in the right way: what will make you improving your results without bulls**t. Although none of the following utensils or kitchen accessories are key to prepare pizza at home, I found them to help a lot or not needed at all. Specifically some of them will make your life easier in preapring the dough and/or they will improve the final result.
Same as we did previously let's start from the end: the oven.
What is the best oven to cook pizza?
Actually there is not a "best oven". It depends on what kind of Pizza you want to prepare. With oven you normally have at home you can cook an amazing Italian Pizza in baking pan. But what if you want to achieve more flexibility and prepare a proper Neapolitan Style Pizza or a very famous "Pinsa romana"? In such cases upgrading the oven is critical.
We can distinguish mainly between two categories: ovens that you can keep in your kitchen and ovens that have to be outdoor.
Ovens that can be used indoor are fueled by electricity. They can reach very high temperatures (450/500 °C) and they generally have a pretty small cooking area. This is because it is easier to keep very high temperatures and maintaining them during the full cooking process. There are several brands producing such ovens (you can contact me if you want to know more) and they look similar to this one:
For the outdoor option you can go for a gas oven, a wood oven or some hybrid system. The market is now offering a lot of these ovens at reasonable price. I personally use a gas oven when I want to cook the Neapolitan Style Pizza and I love it!
So which one is best oven to cook your Pizza? Well, assuming that you have space both indoor and/or outdoor, my recommendation is to ask yourself this question: do you want to cook mainly Neapolitan Pizza or you want more flexibility?
If you want flexibility go for a dedicated electric pizza oven. They make possible to decide and keep the desired temperatures with separated knobs for bedplate and top. Therefore it is possible to cook with them a lot of different Pizza styles.
If you are searching more for a Neapolitan Pizza oven then going for an outdoor gas/wood/charcoal one is your best choice! They are simply amazing and they are unbeatable in the final results you get.
Weigh Pizza ingredients with precision, get a scale for yeast and salt.
When it comes to prepare Pizza Dough you have to deal with the weight of ingredients, sure enough. While a standard kitchen scale (especially if digital) will be fine for flour and water, you can experience some challenges for salt and yeast if you do not have a precision scale.
Let's find an example recipe from my Pizza Recipe Calculator: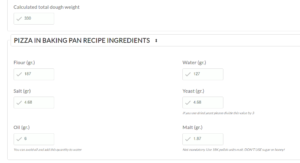 If you notice, to follow my piza recipe you will need to use 4,68 gr. of yeast and salt. Let alone little bit more than 1,5 grams of Malt. Clearly you cannot weigh such ingredients with a standard kitchen scale. Now, we can make numbers round to start, sure. But if you want to be precise and if you want to be able to effectively reproduce my results, you want to have a precision scale.
I personally use a precision scale to 0.01 grams, but also a 0.1 gr. precision will be fine.
Improve our kneading with a Stand Mixer
One of the most wanted kitchen utensils and accessories for pizza is definitely the Stand Mixer. And for a reason: it is speeding up the kneading process. Should you add one to your Pizza arsenal? Yes! Especially if you are preparing bigger quantities of Pizza!
However the question here is not if you want a Stand Mixer to kead Pizza dough. You should ask yourself which one is good? Unfortunately not all stand mixers are the same and in some cases they even make more complicated the mixing of the ingredients.
So, what stand mixer should you buy for Pizza dough? I am not going to suggest specific brands or models (even if for home use I think Kenwood and KitchenAid have proven to do a great job) but I will give you some tips in case you want to buy one Stand Mixer.
First tip: make sure the bowl is big enough. I would not go for something below 6 liters. Reason is that generally for such quantity the electric motor should powerful enough to manage the dough for Pizza.
Second tip: make sure you can get a K-beater and a Spiral Hook. Especially the Spiral is not always provided out of the box. Infact, often, you get a dough hook that is not ideal to prepare the Pizza dough. In other articles we will discuss in details how to use the different hooks. For now is enough to know that you will need both of them.
Third tip: make sure that the power of the Stand Mixer is high! Don't take too much as reference the power consumption with famous brands like KitchenAid, where they have some internal mechanism that transmit the power very well to the hooks. But for other brands, kenwood included for older mixers, have a look at the power value. I suggest to go for 1500 Watt models and above.
Keep in mind that when using stand mixers the temperatures of the dough will go very high in short amount of time. Therefore, in some occasions, the stand mixer for the Pizza dough requires to be careful and to learn how much heat they add to the ingredients. According to my experience you can simply fail the dough if you push the mixer too much and for too long time.
I am not going to talk in this post about the professional or semi-professional Spiral Mixers. Even though they represent an incredible step ahead also for making Pizza at home. Honestly, I do not have one and I can get amazing results without it. It's just that it requires some tricks and tips and a bit more time in the kneading phase. Again, no worries, I will share all my secrets here.
Get a food thermometer! Do it now!
If you follow me on Social media (do it if you have not yet, I am on Instagram, Facebook and Twitter) you noticed that I often measure dough temperatures. Why? Because this is a key to your success in a quality Pizza Dough! Moreover, this is one of the most underestimated aspects of manipultaing ingredients if you are not a professional pizzaiolo. In your kitchen utensils and accessories for pizza you cannot miss a proper food thermometer. Especially if you are using or will use a stand mixer.
First of all, you need a digitial one. Forget the analog thermometer, they are too slow (and sometimes imprecise) to fit our purpose. Second, as you know you can buy two types of thermometers. The real one for food is the one with a probe. You put the probe in the middle of the food you want to measure and in very small amount of time you know the exact temperature. When you are kneading the Pizza dough this instrument will give you a very precise information about where you are in the state of the ingredients.
A second thermomter is the gun. This is what I use the most and if you have to decide between the two I would go for this one. Even though is not as precise as the thermometer with a probe when measuring the dough, it is enough. Moreover you can use it to measure the real temperature of your home oven or of the pizza baking stone 🙂
Blue Iron Pan for Pizza and baking Stone
Let me start with one honest information. I do not have an iron pan and the only stone I have is the one in the gas oven for neapolitan style Pizza. So, I don't even consider them as a real "nice-to-have" in your kitchen utensils and accessories for pizza. However, especially between italian homemade pizza makers, they are very popular. Therefore I think you want to know about them and what I think about them.
Let's start with the blue iron pizza pan. We are talking about a baking pan made from a special blue iron, as you could imagine. They are widely used in Pizzeria by professionals and they are a great instrument for cooking pizza. If you maintain them well you will never experience issues with Pizza sticking to the pan and you can get some crunchy pizza as well.
Unfortunately not everything is that easy with iron pizza pan. Firstly they require an initial "start-up" called "burning". You have to create a small surface of burned oil keeping the pan empty in the oven at a certain temperatures. It is not an easy task. It requires a bit of education and the bad smell that will come from your oven during the burning process does not make it suitable for apartments with not so much ventilation. Moreover you have to repeat this same operation over time to avoid the rust to ruin the pan.
If you are still convinced that you want to try using an iron pan, make sure you buy the one that has a "X" on the base. Their are sometimes called "diamond iron pan". This structure helps to avoid the pan to lose its shape over time.
Regarding the baking stone I am not a fan of it either. A lot of friends are using it in the standard oven, not me. On the Internet you will find that this is something you want to prepare Neapolitan pizza in the home oven. I disagree with the fact that you can prepare Neapolitan Pizza in a standard home oven. Let alone that to have the stone reaching high temperatures you will have to wait for ages! Definitely this is something not suitable if you want to prepare several pizzas. So, even if I will be one of the few around not recommending it, I keep saying that for standard home oven the baking stone is not worth the efforts. Of course this changes completely if you have a dedicated electric or gas pizza oven. In that case the baking stone changes your pizza from night to day!
Conclusion
In the articles dedicated to answer the question "What do I need to prepare Pizza at home" we have discussed about kicthenware, kitchen utensils and accessories for pizza at home. If you are curious about something I did not discuss you can contact me or leave a comment!