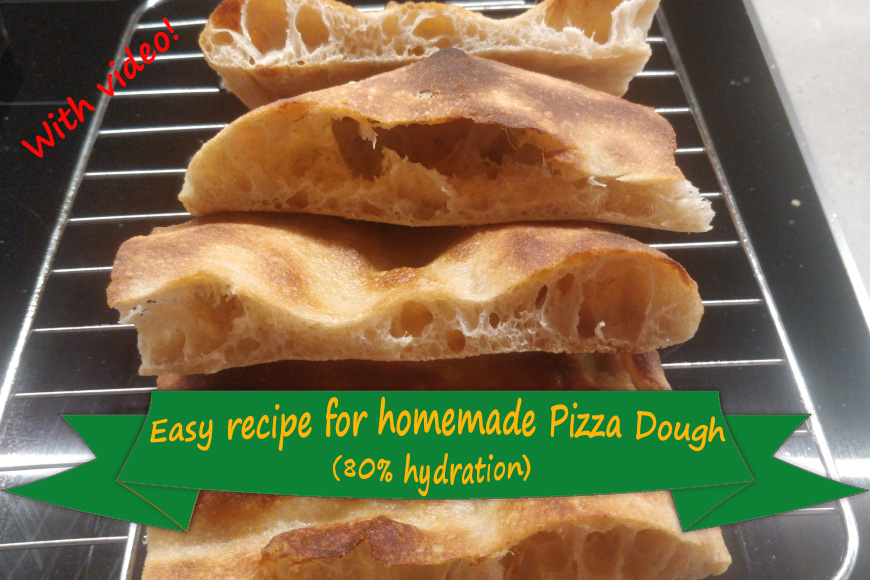 [Video] Easy recipe for homemade Pizza dough (80% hydration)
Last Updated on November 12, 2023 by Stefano
In this blog post I want to share a (not always) easy recipe for homemade pizza dough. Read fully this blog post because you have the opportunity to manage this professional Italian style Pizza in Sheet Pan super easily. But to clarify we will prepare a challenging one, where a lot of people fail. Indeed this is not just a dough recipe blog post. You are going to master the entire process of a special Italian pizza dough. From kneading to cooking this Pizza will just be a success! We will see together all steps of the process also with the help of a video.
What makes this pizza dough so special is the high hydration. It is well known that this kind of pizza is loved by Italians lately. Therefore I thought it would make sense to share how you can also enjoy it. For example you can prepare this pizza dough with Kitchenaid mixer or any other brand. Actually I will be kneading with a Kenwood mixer. This is to say that it does not really matter the brand of your mixer, my easy pizza dough kneading method will apply anyway. However remember that a mixer is needed here.
Before going in details let me share today's agenda:
I will provide Italian Pizza Secrets recommended high hydration pizza recipe
We will talk about the high level process of making Pizza

I will share my secrets for this tasty and healthy Italian Pizza Dough recipe
Finally you have a complete pizza video recipe
Italian Pizza Secrets Recipe for easy Pizza Dough
Every Pizza preparation starts with a recipe, right? So let's do the same here. Following are the ingredients to prepare a Pizza in a rectangular sheet pan 20×30 cm.
| Ingredient | Quantity |
| --- | --- |
| Flour | 180 gr |
| Water | 143 gr |
| Yeast | 2.5 gr |
| Malt | 2 gr |
| Salt | 4 gr |
| TOTAL final weight | ~330 gr |
I would like to recommend what is the best flour for the Pizza I am going to show you. Above all is important to pay attention to the flour. I recommend to find a strong one. If you manage to get the W value never go below 280-300. In case you cannot find the W value of your favorite brand let's try to stick on a flour with at least 12.5/13 grams of proteins.
Of course we are talking about using a Tipo 0, Tipo 00 or even Tipo 1 Flour. If you are not sure about them you can check what I wrote about flours in this other blog post. This is to say that for high hydration pizza dough the flour is a key ingredients not to fail. Also what you will see in the linked video is prepared fully with a Tipo 1 flour which makes easy to absorb water. Do you want to know why that? Well that's a topic for a dedicated blog post or maybe a private chat.
One more tip: water has to be cold. I mean almost ice! Therefore my suggestion is to put the needed water in freezer for about 2.5/3 hours before starting to knead. Ok, now I think we are ready to finally start my easy recipe for homemade Pizza dough.
High level process to prepare most wanted Italian pizza dough at home
It's now time to make our hands dirty kneading the pizza dough. Well, actually we are not going to do too much by hand. As I said before this is a pizza dough machine recipe. However we want to be mentally prepared on our short term journey in advance, so there will be no surprise.
My words for this high level introduction are not really needed. I prepared for you a Mind Map that gives you the idea. I know this can be scary at the very beginning. But, believe me, it's not complicated! Not only, it will be super easy and funny to do. You will have to dedicate a bit of time during the day. For the rest you just need to wait for the dough to mature. Consider that in total you will not spend more than 1 hour. I mean: in total!
The final result is a professional Pizza, at home!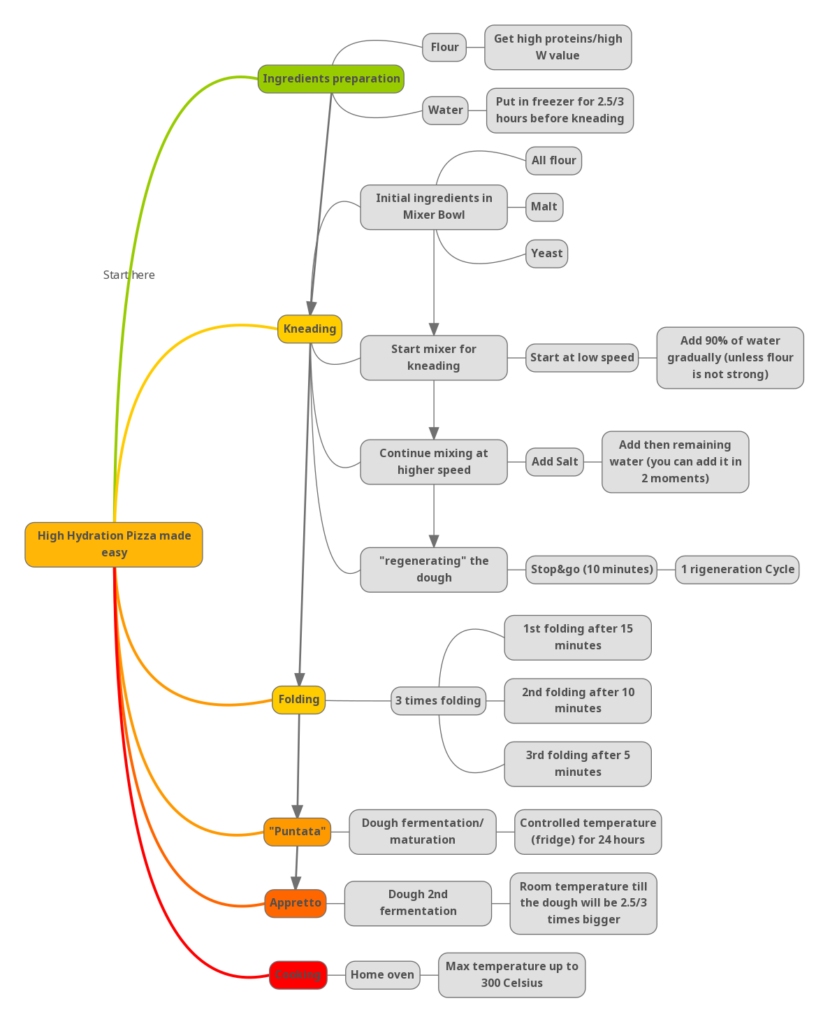 The most important concept I want you to take away is that to knead a pizza dough you need to follow a process. This process is flowing through four important steps. I described them in one video too. A tasty and healthy Pizza requires this knowledge.
Secrets to never fail your pizza dough during the full process
I am constantly writing about the process of kneading dough. You know this already. For today I prepared for you a video that is showing in practice the full process (it's below). Therefore I thought that in this blog post makes sense to only share a few secrets or tips instead. Specifically I will give you one tip for each step of my Pizza Mind Map. Are you ready?
Ingredients preparation
Every Pizza preparation starts with preparing ingredients. When you are doing that I want you to think about temperature. What is the current temperature you have at home? If it is summer I strongly recommend to put flour in fridge a few hours before you start kneading.
No matter if it's summer or winter: put the water in freezer at least 2.5/3 hours. In this way you will have it starting to become ice. That's perfect to compensate the dough temperature increase due to your home mixer.
Already with the two secrets above you should be able to start a perfect pizza kneading.
Tips for Kneading Pizza Dough
A good guide on how to prepare an authentic Italian Pizza Dough should always tell you what I am going to share now. But guess what: not so many people are going to tell you! On the contrary I want you to bring on your table an amazing professional pizza. So read carefully what I am going to tell you.
If you are using a flour with high amount of proteins (12.5% or above) you can give 85/90% of water in the recipe since the beginning. However: don't do that with a flour you did not use before. At the end of this recipe we will obtain a high hydration dough. So adding 90% of the recipe water can lead you to a disaster if your flour is not good in taking water.
Therefore I recommend you to do the following:
start with 70% of water if you did not use the flour before
try the recipe on a small amount of flour, the amount of ingredients I gave you is perfect for that
add remaining water slowly as soon as the previous one has been absorbed and the bowl is dry again
Do you still have questions? Leave a comment below.
How to do folding for pizza dough
Don't skip this critical part of the process. The reason is easy: it will help to make the gluten mesh stronger. Once again, let me stress out that this is a Pizza with a lot of water in it. Which is extremely good to have super crunchy crust with a lot of air inside 🙂
There is no real secret to share here. Besides maybe to recommend you to use a timer between the three folding times.
"Puntata" or first pizza dough maturation secrets
After you finish the folding process you are ready to start the first pizza dough maturation. If you speak with a professional Pizzaiolo he will tell you that the name of this maturation is "Puntata". In the easy Pizza dough recipe for high hydration that I am sharing I recommend you to use the controlled temperature in this phase.
Here are my two tips:
before moving the pizza dough to fridge wait between 30 and 60 minutes.

30 minutes during summer, up to 60 during winter if your room temperature is 20 °C/68 °F or less

try to store the dough in fridge where you have not too low temperature. Ideally you are searching for 6 to 8 °C (or 42/47 °F)
I can explain you why if you ask for it in a comment.
"Appretto" also known as final dough fermentation
To manage the final dough fermentation before cooking you only have one rule: wait for the dough to double or even triple in its size. I prefer to wait for the dough to triple, if you ask me. However you have a way to know if the dough fermented enough:
Open the recipient where you are storing the dough and with one finger try to press the dough. If the dough tries to get back to its shape then it is NOT ready. If the point when you pressed remains pressed it means that IS ready!
Tips for cooking Pizza in home oven
Cooking part is often underestimated. And this is wrong. This is the most important activity to make the Pizza digestible! If a Pizza is not cooked properly you will either find hard to digest or it becomes too hard to eat. Let alone when you burn the pizza dough.
I want to suggest here a tip:
Start cooking the pizza dough from my recipe with the pan at the lowest level of your oven, ideally on the ground
Move the pizza to a center position of the oven after 6/7 minutes, not before. If you do it before the risk is that it will collapse!
And with this I think that you now have enough details and secrets to knead a perfect Italian style high hydration Pizza Dough in sheet pan. It's now time to share with you the video for a not always easy homemade pizza dough. I hope you enjoy! Feel free to leave a comment. Also don't forget to share on Social Media and subscribe to my newsletter to know more about Italian pizza!