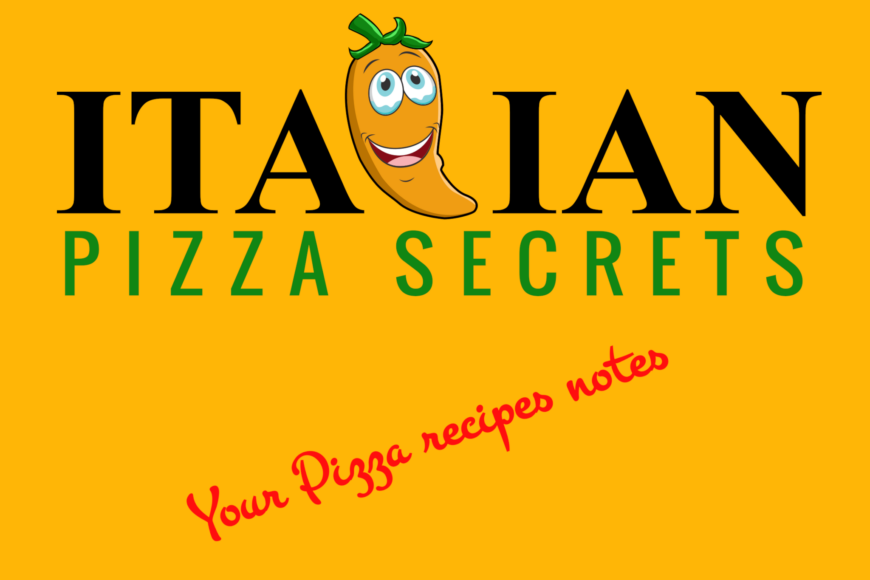 Free Pizza Recipes Notebook for your perfect Pizza!
UPDATE 23.4.2022: A new version of the Pizza Notebook Recipe is now available. While the content of this article is still valid, if you subscribe to the site news you will receive the new and much improved version of the Notebook. Check this article to get more details about the new version. You are already a Newsletter subscriber no worries, you should have already received the new version 😉
When I started making Pizza at home I realized that I could not always use the same recipe every time. This is why I decided to create and share the Free Pizza Recipes Notebook.
Let me explain.
Making Pizza is not just about finding a recipe and mix ingredients. As you know I always insist saying that. Indeed you can use a Pizza recipe for a specific Pizza style but you also want to adapt this same recipe. I want to share with you what you can adapt from the same Pizza recipe so that you will understand why I prepared for you the Free Pizza Recipes Notebook.
One Pizza, multiple recipes
If you ever used my Pizza Recipes Calculator you have noticed that I have three different recipes. They are all for a different Pizza Style. But within the same Pizza Style you can change and customize the recipe.
Customization comes in place first of all for hydration and thickness.Of course I am sure you want to experiment what you like the most. Or simply you want to explore how different doughs.
Moreover, with the same recipe, you can use completely different flours. Let alone that external factors like room temperature or fermentation time have also an important role.
In my experience I find absolutely critical to take notes of the recipe you used. In this way you can go back in time and reproduce the exact same Pizza you liked in the past.
This is why I want to share with you a Free Pizza Recipes Notebook. To download it straight away I ask you to subscribe to my newsletter clicking the button here:
How I use the Pizza Recipe Notebook
To me, having the notebook, changed the way I make pizza at home. I like to experiment with different Flours types and brands. At the same time I prepare Pizza every week, with different needs: from very long fermentation to minimum amount of it. Moreover I try to calibrate the amount of yeast according to specific needs I have in a specific week.
What I realized over the years is that you can't remember what you exactly did a month before. Let alone the Pizza Dough behaves differently during summer and during winter. Home temperature, humidity, different flours and so on are all influencing the Pizza final result.
I use to take notes of all the variables thanks to the Pizza Recipes Notebook. In this way I know exactly what will be my Pizza using different recipes and under different circumstances!
Believe it or not, for home Pizzaiolo this is a game changer! I consider this to be one of the secrets to reduce errors and to have consistent results.
You can now do the same! Don't miss this opportunity, subscribe to my newsletter and start using the Italian Pizza Secrets Recipes Notebook!