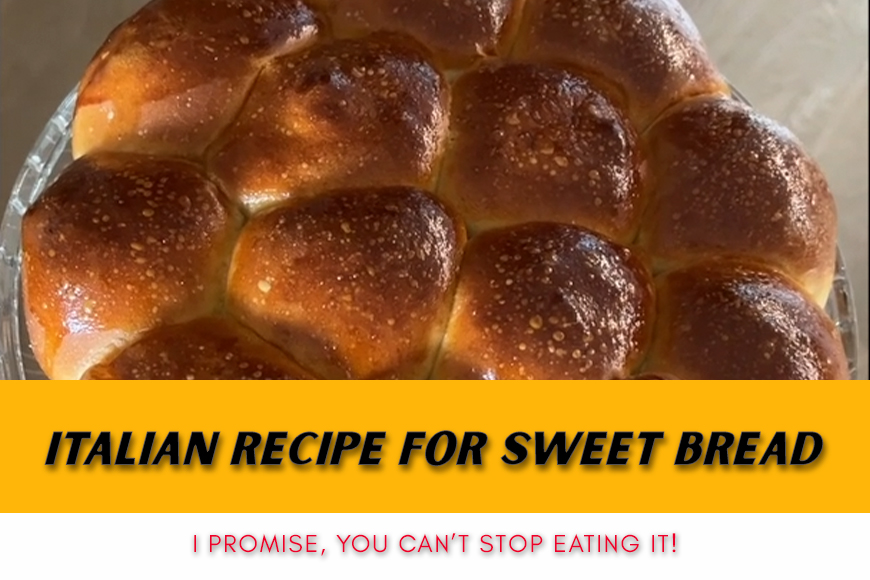 Italian Recipe for Sweet Bread
Posted by

Date

November 27, 2022
Last Updated on November 27, 2022 by Stefano
This is an Italian recipe for sweet bread known as Danube Pan Brioche. You will discover soon that it is very attractive recipe. When you look at this stuffed bread you will be captured. As we often say "you eat it with eyes". But the pleasure does not stop there. As soon as you rip the first piece the sweet and salty smell surrounds you. Then you start tasting it with first bite and since then you can't stop eating more of it!
Now I know what you are thinking: why a bread recipe on a pizza blog? Well, I think this stuffed bread is so good that you cannot miss it. Moreover we will be using basically the same ingredients that we are used to manipulate in a common Italian pizza recipe. I promise you, I am sure you'll love this sweet bread recipe!
In this article:
Don't forget that kids love this sweet bread. Even though technically this is not entirely sweet as you are going to discover. Any way, prepare enough of it, because they will not leave too much for parents!
Italian Recipe for Sweet Bread "Danube"
The amount of ingredients of this Italian recipe for sweet bread will be enough to prepare about 20 pieces of bread. For the special shape the bread has you can consider that one piece is one portion more or less.
| Ingredient | Quantity |
| --- | --- |
| Flour | 510 gr. |
| Milk | 250 gr. |
| Water | 5 gr. |
| Yeast (fresh) | 7.5 gr. |
| Oil | 50 gr. |
| Salt | 10 gr. |
| Malt | 5 gr |
| Eggs | 2 |
I recommend to use 50% of strong flour. A Manitoba flour would be ideal. Otherwise search for an all purpose with 13gr of proteins. The other 50% of flour can be a generic all purpose with 11,5/12gr of proteins.
Regarding eggs, you will use only one for the dough. The second egg will be used to season the sweet bread before baking.
For bread filling we are going to use ham and cheese. Be sure you buy high quality ham and something like a Scamorza cheese. I am not giving you exact quantity you want to put in each dough ball, but I recommend to be generous 🙂 This is a good starting point for the total amount of ingredients for the filling:
| Ingredient | Quantity |
| --- | --- |
| Ham | 200 gr. |
| Scamorza Cheese (or similar) | 200 gr. |
Kneading and First Bread Fermentation
For this sweet bread recipe we will use the stand mixer. This is going to make our life a bit easier because we are going to work with a pretty sticky dough. The stickiness is mainly coming from the milk. Moreover we are going to use the dough hook.
First of all, prepare one egg and scramble it. Then we start adding flour into the bowl and immediately after yeast and malt. If you don't have malt just use a bit more flour (in same amount of malt from above ingredients).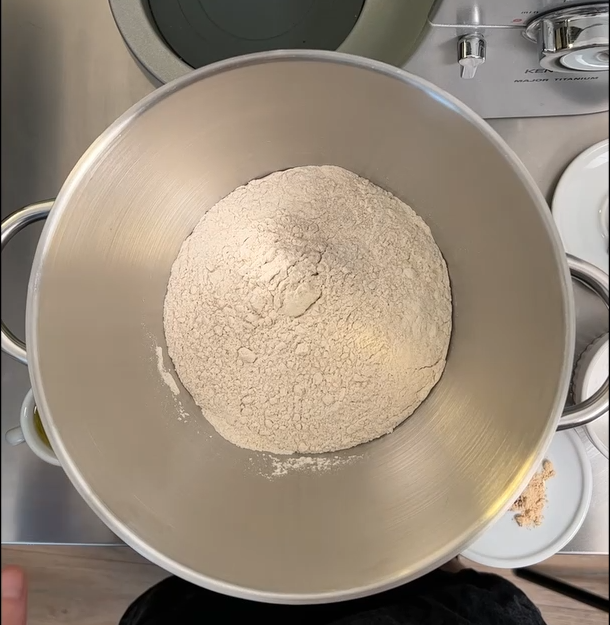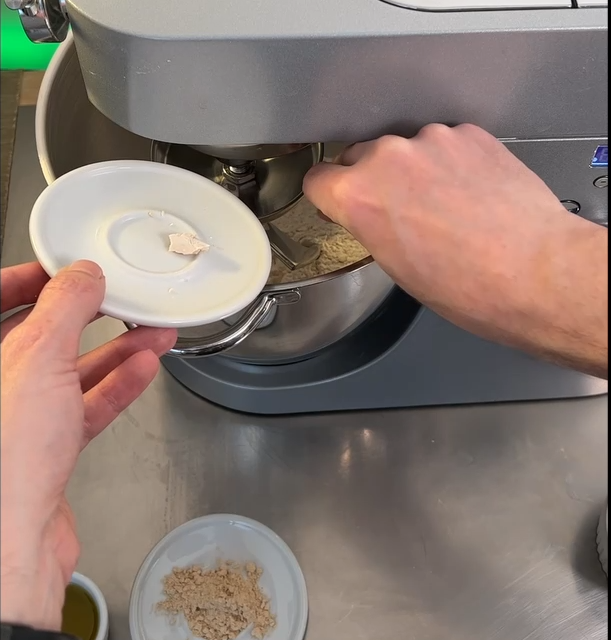 Let the stand mixer run for just 30 seconds and then add milk, water, scrambled egg and oil (in my case I previously mixed water and milk).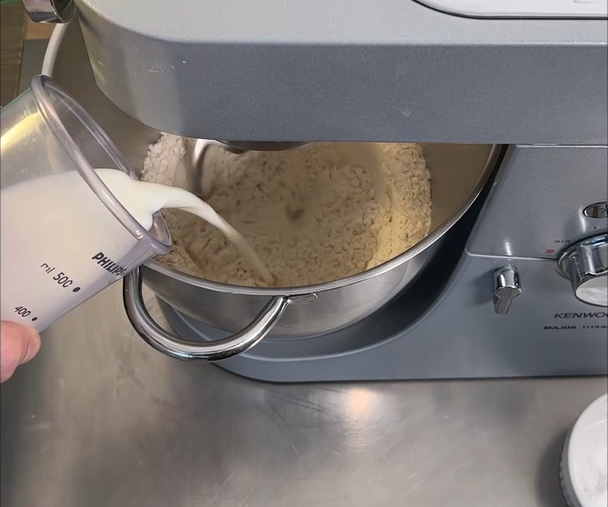 Let the mixer run for a minute and then you are ready to add salt.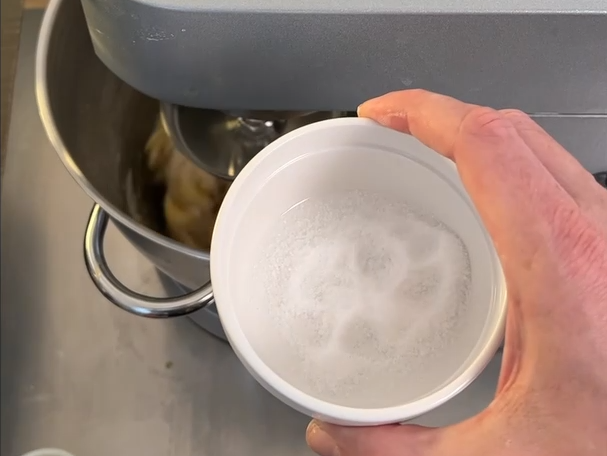 Next step is to increase the speed of the spiral mixer so we can ease the creation of the gluten mesh. I prefer to use a speed of about 1/3 of the maximum.
After a about 5/6 minutes since you started is time for a break. We will do a short "stop&go". So remove the dough from the hook and let it rest just for a couple of minutes before starting the kneading again.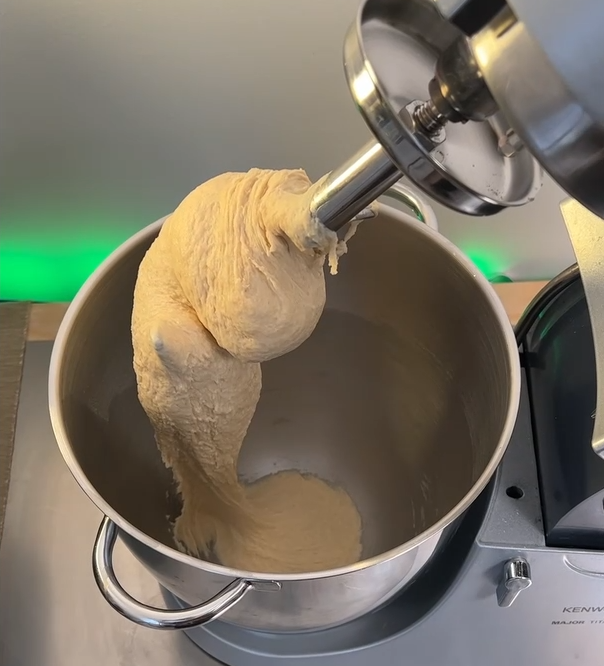 When you start again kneading the sweet bread dough, make sure you do it again at a decent speed but without going too fast. Otherwise the risk is that the dough will be overheated.
Once again I prefer to knead at 1/3 of the max speed of my stand mixer. It should take in total about 10 minutes to complete the kneading. To understand when the sweet bread dough is ready you can simply notice when the dough is not sticking anymore to the bowl borders and tends to go around the hook.
It is now time to move the dough from the bowl to the counter top. No worries if the dough is still sticky. Get a spatula and use it to recompose the dough.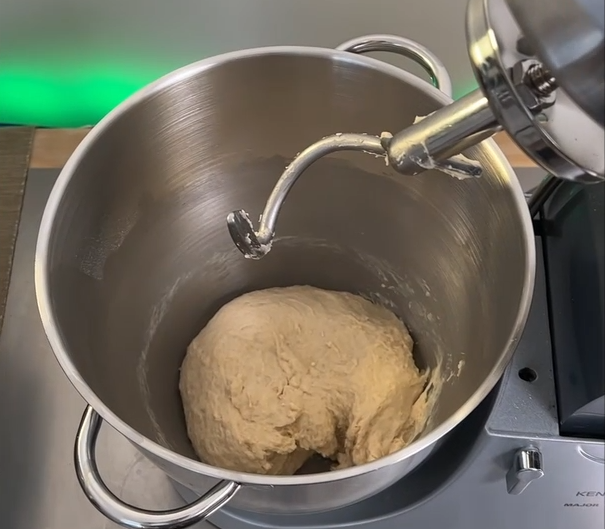 As a next step you want to create a dough ball and have it resting covered for about 10 more minutes: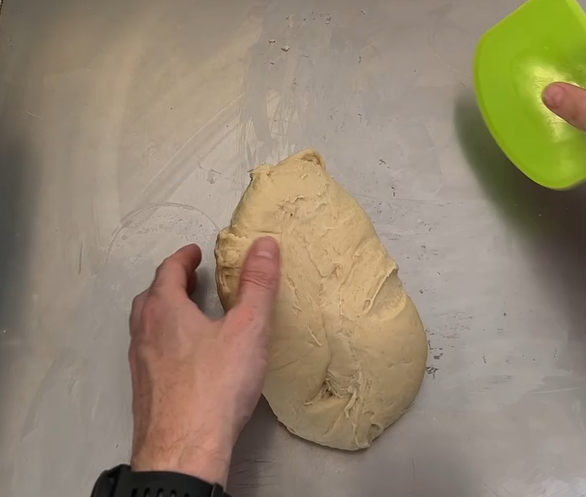 After the 10 minutes break (make sure you cover the dough ball, the stand mixer bowl does the trick) we are ready to move the sweet bread dough in a storage box previously oiled.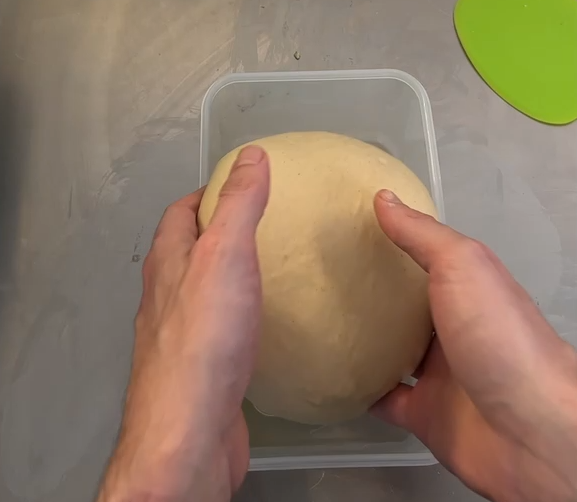 Then you want to move to the fridge for the night. It will take between 8 and 12 hours for the dough to double its volume.
Bread Dough Balls Preparation and Rising
After the night in the fridge we are ready to take the dough and continue to work on our recipe for Italian sweet bread. We are now ready to make the portions we are then going to fill.
So let's prepare our kitchen scale and a dough scraper. Then move again on the countertop and let's prepare several dough balls of 40 grams each: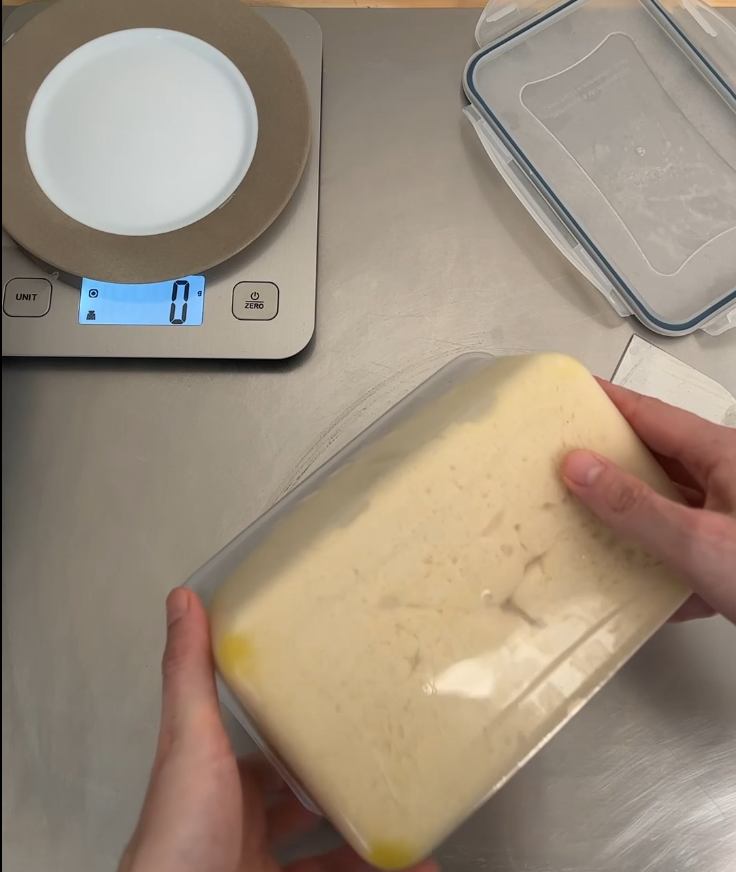 Now, take each portion and try to make it in a flat round shape. It does not have to be precise. In fact we only want to make our life easier when we are going to fill it with ham and cheese. And this is indeed our next step: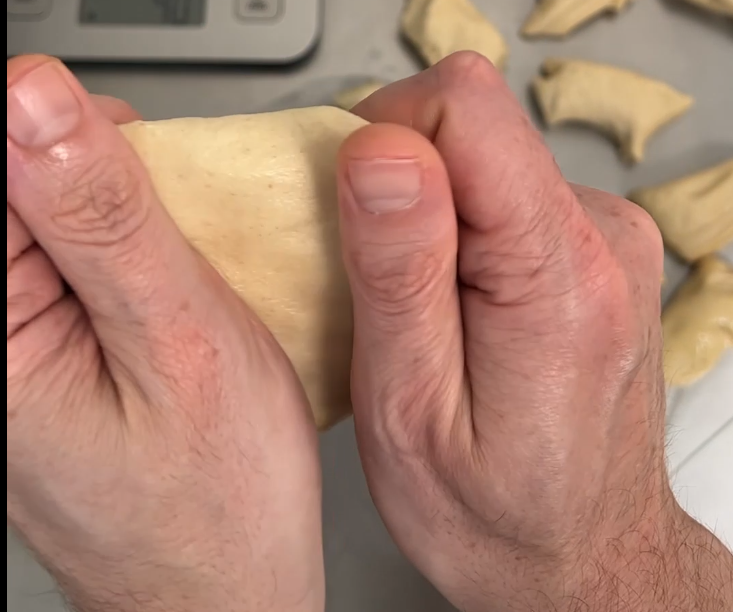 Pay particular attention to the dough ball closure below. You don't want to leave any hole or your next rising will be compromised.
Once you finished to prepare all the dough balls of what will become the sweet bread, you want to move everything in a round baking pan. I used a 28 cm pan that was enough to add a little bit less than half of dough balls I prepared. And in fact I baked with two pans.
Add some parchment paper on the base of the pan and then put the sweet bread dough balls inside, making sure yuo leave some space between them: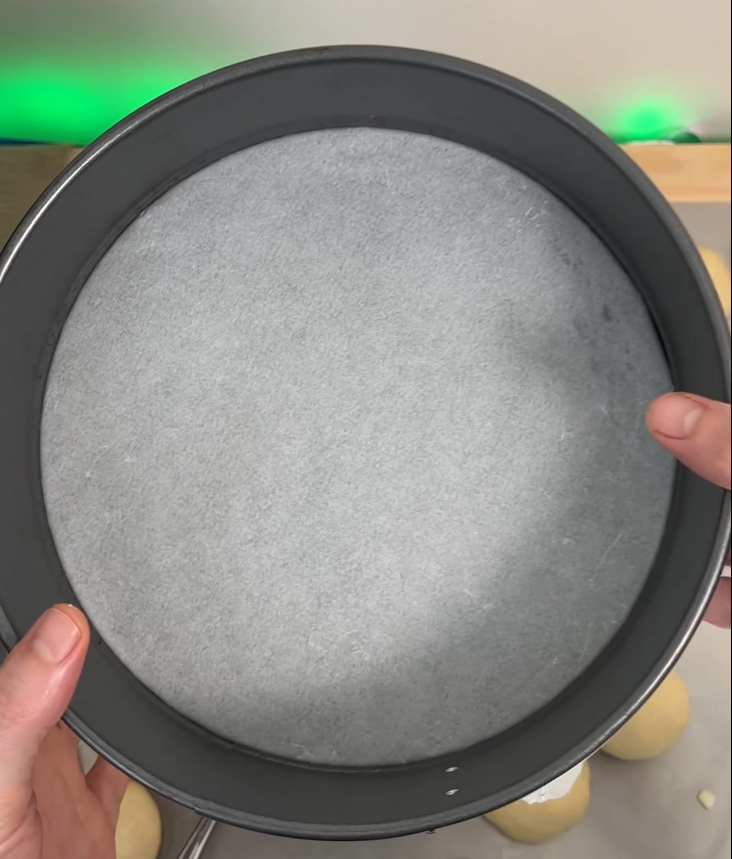 Now it's time to cover our sweet bread with a cling film and let it rise for a bit more than 1 hour. Following photos are showing what you can expect from the rising process.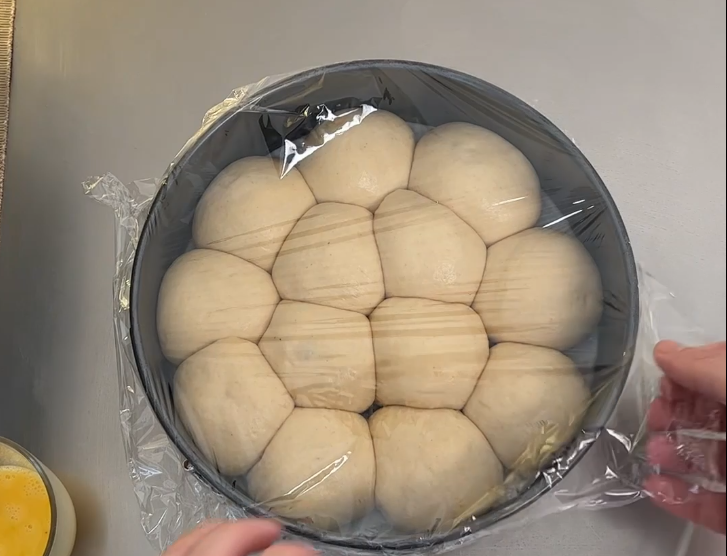 Now we are ready to move to the next phase where we will finally bake.
Baking our Sweet Bread
Preheat your oven at 200 Celsius (390 F) degrees. Make sure you use the static heating.
Then scramble one egg and cover the surface with a kitchen brush. After that you are ready to go into oven: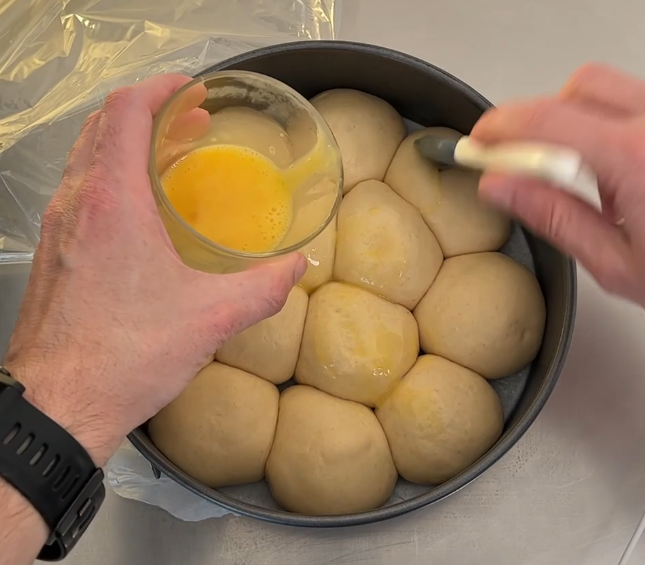 It takes about 20 minutes to complete the baking. And this is the final result you are going to enjoy: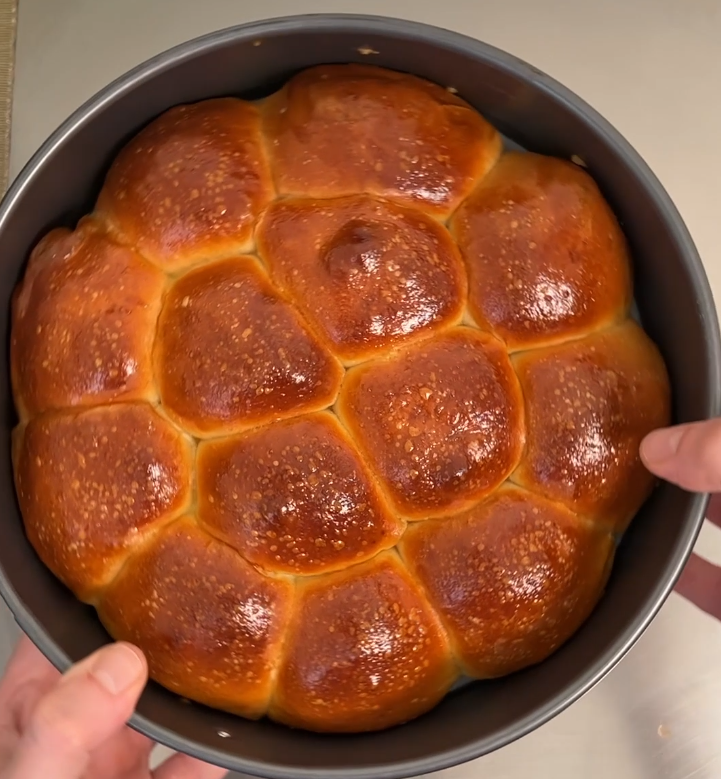 Why a traditional Italian Pan brioche recipe?
Especially kids love this bread. I love to consider the Danube as the children bread. Probably because also as adult when you eat it you feel a bit like the young self. Or at least this is what I feel. One thing is for sure: it is so delicious that you can't stop eating it!
But first a bit of history about this Italian recipe for sweet bread. As said at the very beginning the name of this pan brioche is "Danube". This is actually a traditional Easter bread that is prepared in areas around Naples. In fact the history says that the initial recipe was born in Naples!
When I say that the tradition is to eat it during Easter, though, I need to specify that this is valid for some families only. The truth is that you can use this bread in every occasions. For example I am going to make it as a bread for Christmas.
The taste of this sweet bread is very specific. Because the reality is that it's sweet and salty at the same time. And it seems that our brains love this contrast. Whoever tried this recipe can tell how addictive this pan brioche is.
So you should not ask why to make this bread. You should be asking why not to make it! Add this recipe in your arsenal of Italian traditional recipes. And if you have not yet my recipes notebook I strongly recommend to get one and copy this recipe there. Maybe you will also experiment some variations, especially for stuffing this sweet bread.
Tag:bread for childeren, bread for easter, bread for kids, christmas bread, christmas gingerbread, easter bread, italian bread recipe, italian pan brioche, italian recipe for sweet bread, pan brioche recipe, recipe for sweet bread, stuffed bread, stuffed bread recipe, sweet bread, sweet bread recipe