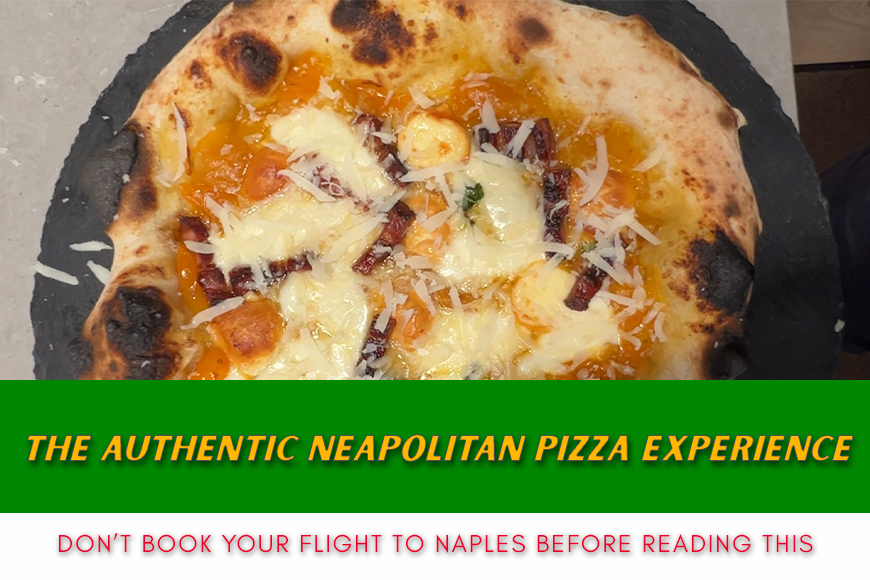 The Authentic Neapolitan Pizza Experience: Exploring Naples, Italy
Last Updated on November 12, 2023 by Stefano
Welcome to the heart of pizza culture – Naples, Italy. Known as the birthplace of the iconic Neapolitan pizza, this vibrant city offers a truly authentic culinary and history experience like no other. In this article, we will explore the world of Neapolitan pizza, its rich history, traditional preparation methods and the unique ingredients that make it so special.
Because Neapolitan pizza is more than just a dish. It's a culinary tradition that goes into the roots of the city and explains the modern history of the city. Everything starts with simple yet high-quality ingredients such as tomatoes and artisanal dough. Each pizza is handcrafted and cooked in a high temperature oven, resulting in a deliciously charred and bubbly crust. But although everything sounds so simple, in reality making Neapolitan pizza hides a lot complexity.
Today I want to share with you a bit more about the world of Neapolitan pizza and how to enjoy it in Naples. Especially covering where to eat a good pizza in Naples, how to recognize when you are really eating a Neapolitan pizza and when not. I will guide you through some of the most famous pizzeria in Naples and I will share some secret details about this amazing food that are only known to experts.
Let's dive into the world of Neapolitan pizza in the bustling streets of Naples, Italy and explore the following topics:
Let's get the experience started.
History and origins of Neapolitan pizza
When you think about authentic Italian pizza, you immediately have in your mind the picture of the classic round pizza. And most probably you associate it with the one made in the heart of pizza culture – Naples, Italy. Known as the birthplace of the iconic Neapolitan pizza, this vibrant city offers a truly authentic culinary experience like no other. In this article, I will share a bit more about the world of Neapolitan pizza, exploring its rich history, traditional preparation methods, and the unique ingredients that make it so special.
Neapolitan pizza is more than just a dish; it's a culinary tradition deeply linked with the city's traditions and culture. Made with simple yet high-quality ingredients such as San Marzano tomatoes, mozzarella fiordilatte and artisanal dough, each pizza is handcrafted and cooked in a high temperature oven, resulting in a deliciously charred and bubbly crust.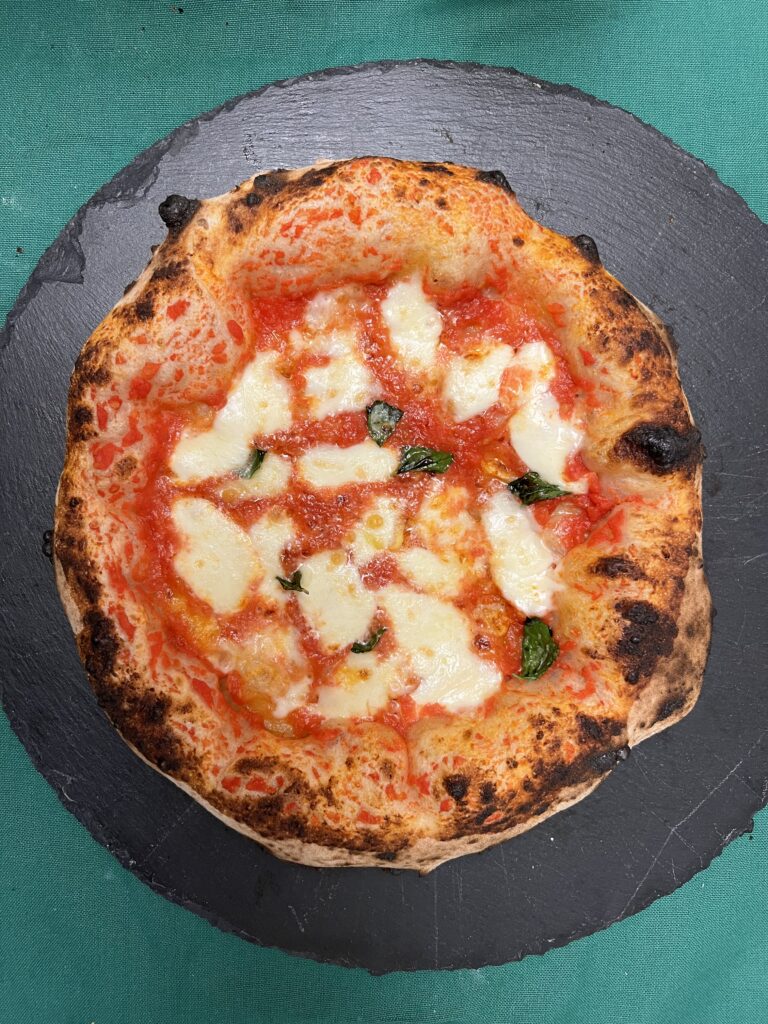 As you walk through the streets of Naples, you will find numerous pizzerias, each claiming to offer the "authentic" Neapolitan pizza experience. From pizzerias in the historic center to hidden gems in the narrow alleyways, the options are endless. But how do you know if you are really discovering the true essence of Neapolitan pizza in the birthplace of this delectable delight? Get ready to savor every bite and create memories that will last a lifetime.
The origins of Neapolitan pizza are pretty old. At the beginning of last century it was mainly food easily accessible to poor people. Its initial evolution was based on simplicity. From the dough to the topping everything was made having in mind its main goal: satisfying the hunger. If you follow the AVPN Social media you will often find their President explaining very interesting facts from the past. And his historical memory it's absolutely astonishing .
In the modern history, however, Neapolitan pizza has evolved in a completely different way. Nowadays Neapolitan pizza is an icon and it's slowly becoming a gourmet food.
However, whether you're a pizza aficionado or simply seeking to indulge in a truly remarkable culinary adventure, Naples is the ultimate destination for an authentic Neapolitan pizza experience. So, pack your bags, bring your appetite, and let's dive into the world of Neapolitan pizza in the bustling streets of Naples, Italy.
Ingredients and traditional preparation methods
You only need four ingredients for traditional Neapolitan pizza: flour, water, yeast and salt. Nothing else. Stay away from pizza recipes that add sugar or oil. They are not following the traditional preparation methods.
Out of the four ingredients flour and yeast are the most discussed. In the recent time the most used flour for traditional Neapolitan pizza are the Type 0 and Type 00. This is also what the rules dictated by the AVPN Association. However, we should keep in mind that during the beginning of last century there was nothing like the Type 00. Definitely the usage of less refined flours was the standard. The modern Neapolitan pizza sometimes makes use of larger quantity of less refined flours. More on that later.
Also yeast can be a challenge: do you use fresh or dry yeast? That thanks to the modern food industry you can rely on both of them. However I admit that I prefer the fresh yeast. I find it much more consistent especially when you prepare pizza in small batches. Also you should keep in mind that dry yeast is much more powerful (you need less) than the fresh yeast, but only when used in big quantities.
Apart from ingredients you then have the process to prepare the dough. Here you have a couple of options. Hand made pizza dough or a mixer. The traditional way to prepare the Neapolitan pizza dough is to knead by hand and using a madia. This is a very old wood equipment that helped in preparing the dough. You can find an example here: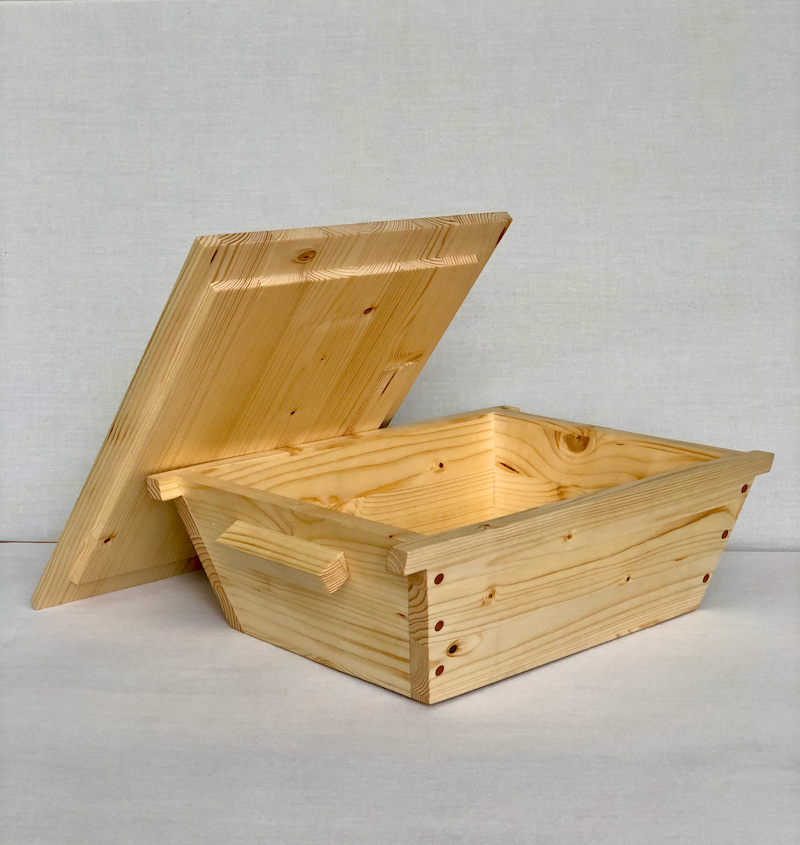 Traditionally in Madia you were putting flour on one side, then you were adding water on the other side. Then you wanted to dissolve salt in water and slowly add flour from the side to the water. More or less in middle of the mixing you added yeast and continued to knead until the dough was ready.
Nowadays just few people still use madia. Mainly because it's hard to keep clean and you can use a standard bowl to obtain more or less the same dough. Still, in some pizzerias you will find a madia exhibited as a ornament.
Worth to mention is that in the tradition of Neapolitan pizza dough preparation you want to add flour to water and not the opposite. However modern pizza schools approach the pizza kneading adding water to the flour.
Last but not least, the baking phase in Neapolitan pizza is extremely important. In fact this typical Italian pizza is cooked at very high temperatures (from 380 to 450 Celsius). This intense heat creates a charred and blistered crust, while also ensuring that the toppings are cooked to perfection. The result is a pizza that has both a crispy crust and melts in the mouth. The final flavor of ingredients baked at high temperature can't be replicated in a conventional oven.
Exploring Naples, the birthplace of Neapolitan pizza
There is a famous dictum in Neapolitan dialect that says: "Vir Napul' e poi mor'". Hard to pronounce also for some Italians. But the meaning is pretty intense: "you can't die before visiting Naples".
Naples is an amazing city. It's in my heart because I graduated there. I spent several years of my life in this vibrant place. It's hard to describe it in few words. You need books to cover all the important aspects of Naples. However we are talking about pizza today. And you all know that this is the world Capital of pizza. But not only that. I think that Naples is fantastic for food in general. For example you can taste some of the most delicious Italian street food. Delicious and also very cheap.
For example, if you will ever be there and searching for the best street food in Naples, you can't miss the "frittatina". It's a deep fried delicious street food made with pasta, white sauce, peas, meat and mozzarella (or provola):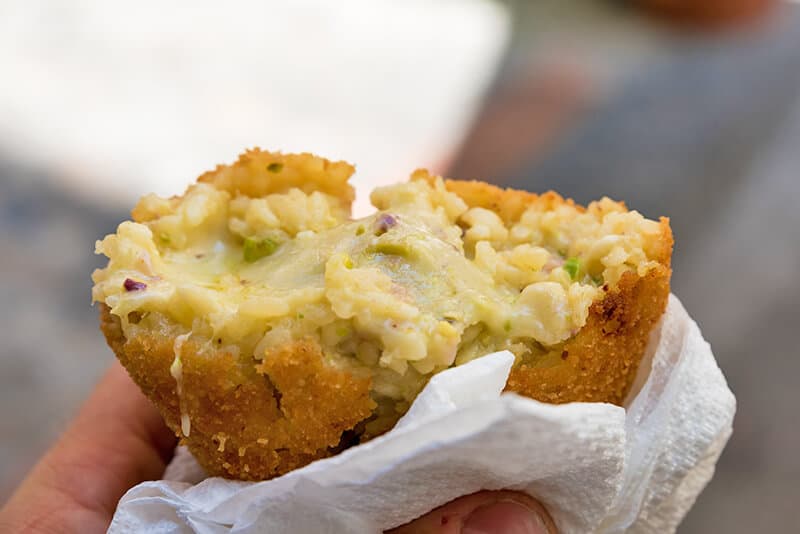 Of course never forget to try Mozzarella di bufala (buffalo mozzarella), pizza a portafoglio, fried pizza, panino napoletano, just to mention a few other specialties.
So, between a visit to a monument and breathtaking outdoor places, you can always find some amazing and extremely cheap Neapolitan street food option.
Traditional Neapolitan Pizza VS Modern Neapolitan Pizza
Ok, let's now dig in one of the less known pizza topics outside of Italy: the two schools of thoughts about Neapolitan pizza.
In fact you need to know that there is not just THE Neapolitan pizza. We have a t least two different Neapolitan pizza school: the traditional and the modern (or contemporary). The difference is substantial. I cover it extensively in this article about authentic Italian pizza. As a summary, in common they have that they are both a round pizza and they have to melt in your mouth to every single bite.
Then the traditional Neapolitan pizza is different starting from how it looks: very large and with a smaller crust. The difference in size than a modern Neapolitan pizza can be in fact very significant. Also, the borders (or pizza crust) of the traditional school are not so big. About 1 or 2 cm. They are also not so high and fluffy. On the technical side, the traditional Neapolitan pizza needs to follow the rules dictated by AVPN (Neapolitan Pizzaiolos association) In Other words, the authentic recipe of Traditional Neapolitan pizza is coded and to claim that you are making an original Neapolitan pizza you have to follow some rules.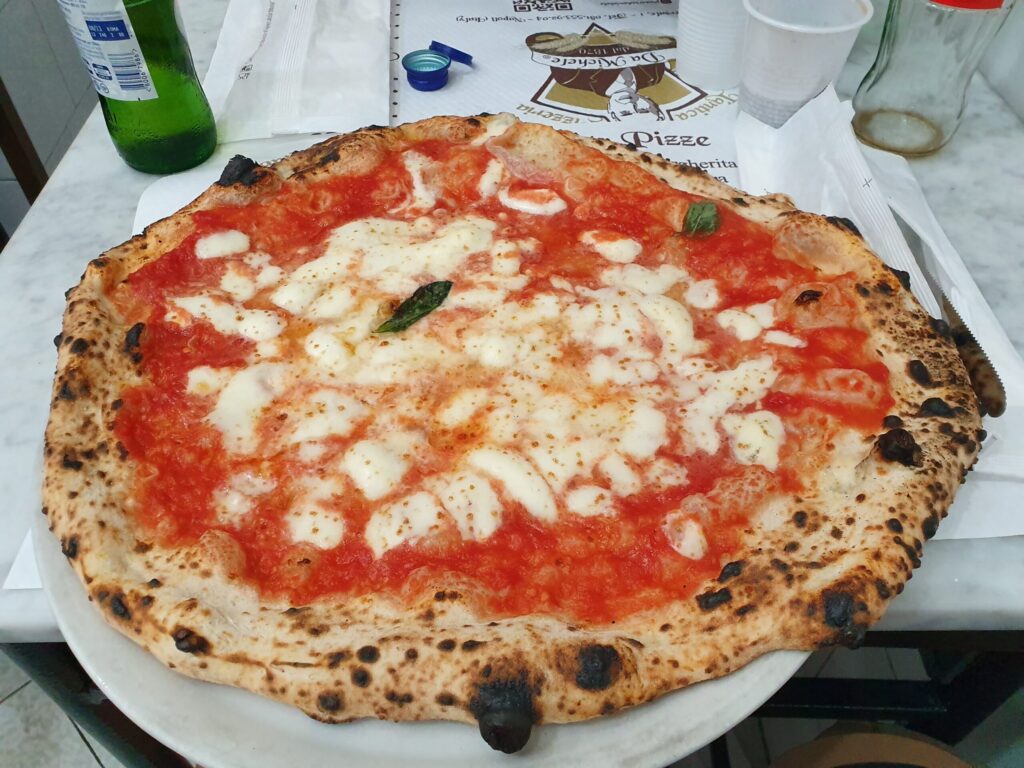 What is probably less known is that for a pretty long period of time (mainly between 1990 and 2000), making pizza in Italy and in Naples became just another business. So instead of keeping the level of pizza high, a lot of entrepreneurs and Pizzeria owners were focusing on keeping costs low to offer low cost food. As a consequence the quality of pizza was very often poor. It was not so hard to find a pizzeria where the Pizzaiolo (the worker making pizza) was completely ignorant about what he was doing. Sometimes he/she did not even know the difference between a less or more refined flour. Let alone that pizza recipes were blindly learnt from older worker without understanding much of how a pizza was different than the one of the close competitor pizzeria.
Some people think that it was thanks to a journalist investigation from a TV program called "Report" that the above trend changed direction. In his investigation from 2014, the journalist Bernardo Iovine highlighted a lot of bad habits around pizza making: from low quality ingredients to carcinogenic elements in pizza. And more or less around that period the Modern Neapolitan pizza started to boost.
In the modern (or contemporary) Neapolitan pizza there is an important attention to ingredients, process and toppings. Modern Neapolitan Pizza idea is that this is more than just a food to satiate. It has to be a special pleasure for the mouth from the dough to the ingredients on top of it. Nowadays Traditional and Modern Neapolitan pizza share the quality but only in modern pizza you will find high hydration, use of preferments and baking at a lower temperature so that the dough dries properly.
If you never tasted any of the two Neapolitan pizzas, you definitely should plan to go for both and decide which one you prefer! Later I will share some very nice pizzerias you can try.
Famous Neapolitan pizzerias in Naples
Naples is home to a number of iconic pizzerias that have become institutions in their own right. These pizzerias have gained worldwide recognition for their commitment to quality and their dedication to preserving the traditions of Neapolitan pizza. But not only, because between Naples and surrounding you can also find some of the greatest modern Neapolitan pizzerias.
If you are into the taste of the traditional Neapolitan pizza, you may have heard before about pizzeria Da Michele. It is located just a short walk from the central train station. This legendary pizzeria has been serving up its famous Margherita and Marinara pizzas since 1870. With its minimalistic menu and no-frills decor, Da Michele focuses on what really matters – the pizza itself. The pizzaiolos at Da Michele have perfected their craft over the years, creating pizzas that are unrivaled in their simplicity and flavor. I reviewed my recent experience to this pizzeria in a dedicated article I recommend to read. Honestly speaking, though, especially during last years, Da Michele became so famous that it's quite hard to enter without waiting in queue for a couple of hours. I leave to you to decide if it is worth the waiting.
Apart from Da Michele, Naples has tens of historical traditional pizzerias. Just to name a few of them: 50 Kalo, Antica Pizzeria Port'alba, Di Matteo, Da Concettina Ai Tre santi, Sorbillo, Starita a Materdei. They are all certified from AVPN for making the traditional Neapolitan pizza. But if you want to search for others, have a look at the AVPN list of certified pizzerias.
If you would like to taste the contemporary Neapolitan pizza then you will never find a list like the one of the AVPN. But I can help you mentioning some very famous ones. Let's start with the city of Naples and surrounding.
I would start with Errico Porzio. Errico is coming from a family of traditional pizzaiolos but he managed to use the experience of the traditions with modern concepts. If you are in Naples you can try the Pizzeria in Soccavo, Vomero or Lungomare (search for contacts on the linked website). What is nice from his pizza is not only the dough, but also the toppings.
Another one to try again in Naples is the one of Vincenzo Capuano. Also in this case you can experience the mixture of the traditions with the one of the contemporary pizza. Very often you can have the chance to be served directly by the owner Vincenzo with his grandfather.
Then you have a few options outside of Naples. And they are a must to try, believe me. You need to go to Caserta's province, close to Naples. There you can find what are considered the best pizzerias in the world. Both of them embraced the idea of the Contemporary Neapolitan pizza and they are simply amazing. I am talking about Pepe in Grani and I Masanielli. If you are staying in Naples for a few days, I strongly recommend to book a table with both of them. But book them a lot of time ahead: a couple of months to be on safe side! Then once there go for the degustation menu. You will be grateful after.
Tips for ordering and enjoying Neapolitan pizza in Naples
Ordering and enjoying Neapolitan pizza in Naples is an experience in itself. To make the most of your pizza adventure, here are a few tips to keep in mind:
1. Don't be afraid to try something new: While the classic Margherita and Marinara pizzas are a must-try, don't be afraid to step out of your comfort zone and try some of the lesser-known varieties. For example, if you find it in the menu ask for "Mastunicola", a traditional Neapolitan pizza made with lard, a lot of basil and Pecorino cheese. Or what about the "Salsiccia and Friarielli"? This is made with a traditional vegetable (friarielli) and sausages. Last but not least, test the original pizza diavola! there's a pizza for every palate.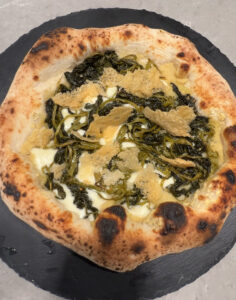 2. Embrace the simplicity: Neapolitan pizza is all about simplicity. The toppings are minimal, allowing the quality of the ingredients and the skill of the pizzaiolo to shine through. Don't expect a loaded pizza with a multitude of toppings – instead, savor the pure and unadulterated flavors of the simple yet delicious combinations.
3. Eat it while it's hot: Neapolitan pizza is meant to be enjoyed immediately. The thin crust and delicate toppings can quickly lose their freshness and flavor if left to sit for too long. So, dig in as soon as your pizza arrives at the table and savor it while it's still piping hot.
4. Pair it with the local wine: To complete your Neapolitan pizza experience, pair it with a glass of local wine. The volcanic soil of the Campania region lends a unique character to the wines produced here, making them the perfect accompaniment to the flavors of the pizza. Alternatively, check if there is any local beer from small breweries. This is becoming more and more popular in Italy. Avoid mass-production brands like Peroni or Heineken.
5. Don't even try to ask for pineapple: ok, I am bit joking here 😀
6. If you go to a Contemporary pizzeria: strongly recommended to try non-traditional toppings. Feel free to ask to the staff what is their favorite 😉
Neapolitan pizza variations and regional specialties
While the classic Margherita and Marinara pizzas are the most well-known variations of Neapolitan pizza, there are several other regional specialties worth exploring. Each region in Italy has its own unique take on pizza, incorporating local ingredients and flavors to create distinct and delicious variations.
In Naples, one such variation is the Pizza Napoletana Fritta, or fried Neapolitan pizza. Now, you have two variations of it. The historical one and the one you can find in majority of pizzerias. The difference is substantial.
The historical Pizza fritta (fried pizza) is made by frying a pocket of dough filled with a variety of ingredients. The result is a crispy and flavorful pizza that is unlike anything you've ever tasted. The original has a special filling: pork greaves, ricotta cheese, smoked provola, basil and black pepper. One of the best in Naples is at "La Masardona".
In most pizzerias you can then find also a Pizza fritta. Unfortunately though, not always with the traditional ingredients. For example very often you will find ham or salame instead of pork greaves.
Another regional specialty is the Calzone. This is made in oven with the same dough of the pizza but folded in two and filled with ricotta, black pepper, provola and salame. Moreover, on top of it you have the topping of a pizza margherita: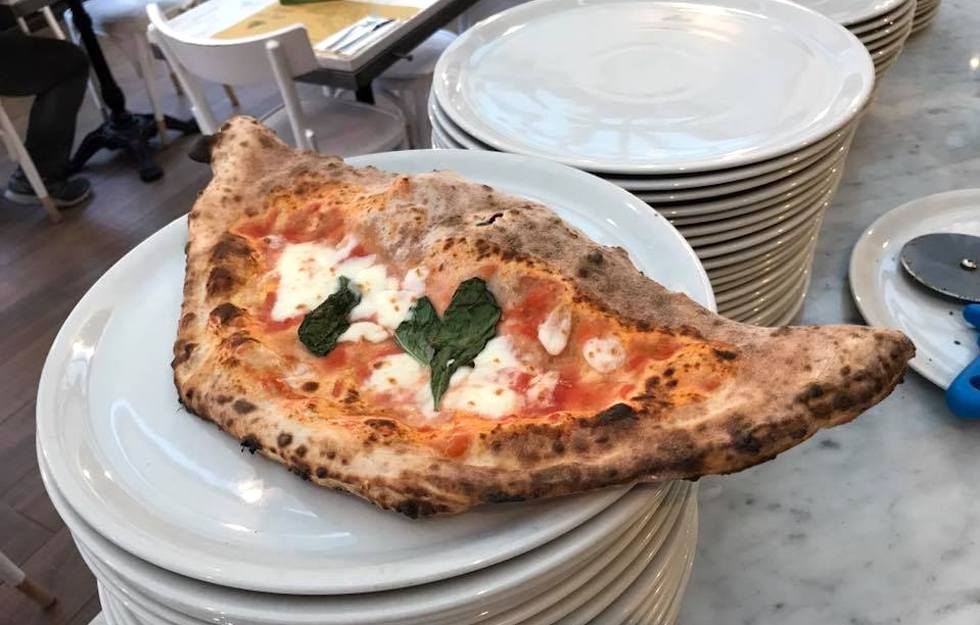 As you can see, the more you read about the authentic Neapolitan pizza experience, the more you understand that this world is pretty huge. Exactly like the experience of the authentic Italian pizza, in general.
Neapolitan pizza outside of Naples: Where to find authentic options worldwide
Honestly I was not sure if I wanted to discuss about where to find authentic Neapolitan pizza worldwide. For a couple of reasons.
While Naples is undoubtedly the best place to experience authentic Neapolitan pizza, you can still find excellent options outside of Italy. The problem is that is not that easy as it may sound. Mainly because a lot of pizzerias claim to do Neapolitan but then when you taste them you realize it is not really the case. Even though it is true that Neapolitan-style pizzerias have gained popularity worldwide, with many pizzaiolos and chefs embracing the traditional techniques and ingredients to create their own versions of Neapolitan pizza.
The truth is that I don't really like to recommend places I did not try. And I am not lucky enough to travel everywhere in the world. So instead of recommending exact places I prefer to give you a couple of tips and indications.
First of all: check if you have around you one of the pizzerias from the list of AVPN. They are certified to follow some standards and you can be sure that what you are tasting is the traditional Neapolitan pizza.
If you don't have anything certified around you, then you can follow a few simple tips that I am going to share… just don't blindly trust a pizzeria claiming to do the Neapolitan pizza but check if you see the following in their pizza:
Can you fold pizza in 4? This is a very easy test. And it's probably the most important tip for you. Neapolitan pizza is soft and if you cannot fold it in 4 without braking the base, then it's not an original Neapolitan. This is what you should try…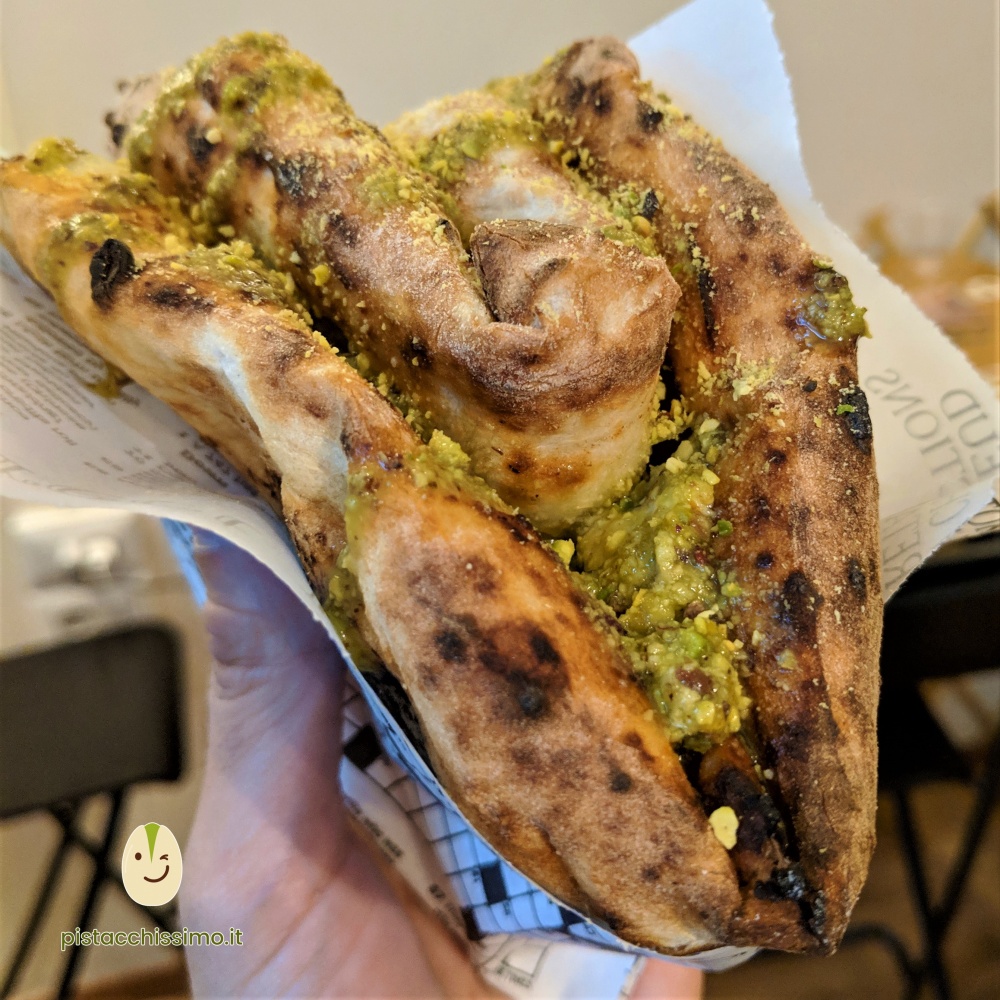 Another critical tip is in the pizza bite. Bite a slice of pizza and check how much you need to chew it before you can swallow it. Neapolitan pizza has to melt in your mouth! So it does not require a lot of chewing, actually almost none! If you don't have this experience then it means that pizza is not Neapolitan or in any case is not well done!
How to make Neapolitan pizza at home: Recipes and tips
If you can't make it to Naples or your favorite Neapolitan pizzeria, you can still recreate the magic of Neapolitan pizza in your own kitchen (if you have the proper oven). While it may not be always exactly the same as the pizzas you'll find in Naples, with a little practice and the right ingredients, you can come close to the authentic Neapolitan experience. However remember that to reach this result you need you need the proper pizza oven. In fact if you use the standard kitchen oven, you will never get a soft base like in the original Neapolitan.
To make Neapolitan pizza at home, you'll need a few key ingredients. Start with high-quality flour, preferably tipo 0, which is finely ground and perfect for making pizza dough. Combine the flour with water, salt, and yeast, and knead the dough until it is smooth and elastic. I captured the entire recipe of the traditional Neapolitan pizza making in this article. I strongly recommend to follow it for best results.
While your dough is rising, prepare the toppings. You can use San Marzano or just high quality peeled tomatoes in can for the sauce. The ancient tradition foresees to crush tomatoes by hand and add a pinch of salt (about 1%). For full instruction on how to prepare an authentic Neapolitan pizza sauce I have an article. Last but not least tear the mozzarella into small pieces and set aside. And guess what? I have instructions on how to prepare mozzarella for Neapolitan pizza too!
Once the dough has risen, divide it into individual portions and shape each portion into a round disc. Stretch the dough gently with your hands, being careful not to tear it. Top the dough with the tomato sauce, mozzarella, and any other toppings you desire.
Preheat your oven as hot as it will go, ideally between 380 and 430 degrees Celsius. If you are using a home oven, then better to buy a a pizza stone or a baking steel, place it in the oven to preheat at the maximum possible temperature. Transfer your pizza onto a preheated pizza peel or a baking sheet and slide it onto the hot stone or steel in the oven. Please avoid to use any parchment paper!!
Bake the pizza until the crust is golden brown and the cheese is melted and bubbly. Remove the pizza from the oven and serve it while still hot.
Conclusion: The timeless appeal of Neapolitan pizza
There is no doubt that Neapolitan pizza is one of the most famous Italian food. Out of all Italian pizza styles it is the most known and the most wanted. And this is definitely because the taste of this pizza, baked at such high temperature, is just amazing.
On the other end, this is probably the most difficult pizza style to prepare and often is not even the most appreciated worldwide. In my experience not everybody likes how soft and melt-ish a Neapolitan pizza is. A lot of people prefer a pizza that has a bit of crunchiness. Actually this can still be an Italian traditional and authentic pizza, it's called "round pizza in the dish". Because of the shape, foreigners think that it's the Neapolitan even though it is not.
I hope that with the information I shared in this article you now have a better understanding on what to expect from a real Neapolitan pizza.