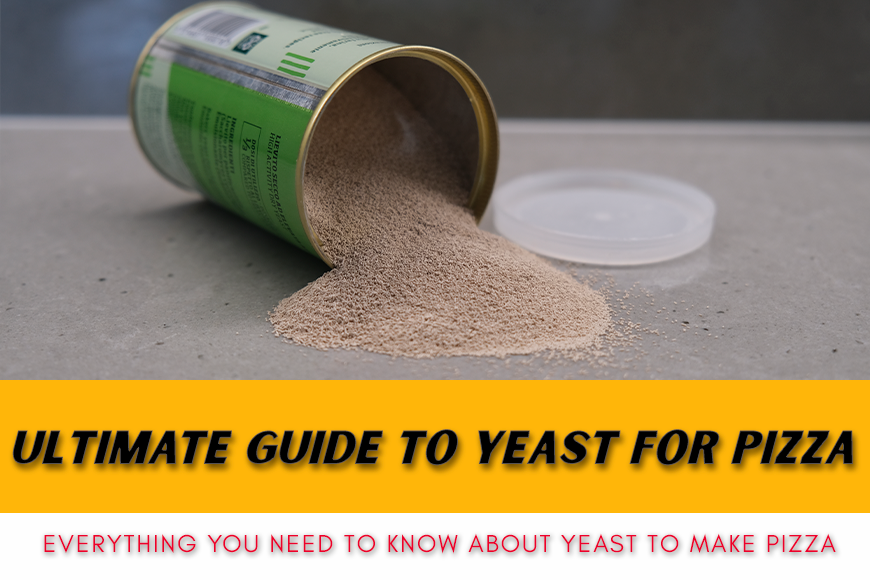 Ultimate guide to pizza yeast: everything you need to know
Last Updated on November 12, 2023 by Stefano
Every yeast is good to make pizza. Let's talk about: fresh vs dry yeast, how much yeast to use for pizza and how to store yeast. The ultimate guide to pizza yeast will cover everything you need to know about yeast.
I decided to write this article because of the fragmentation I noticed around the yeast for pizza topic. You can certainly find other websites talking about one of the key ingredients to make pizza. But in most cases you don't find answers to every question in a single place. My goal is to provide you value with a one stop shop for yeast.
This is the list of topics we will be talking about:
Let's jump into the topics without any further delay.
Importance of yeast for pizza
There is no pizza without yeast. Or I should better say that the absolute majority of authentic Italian pizza requires yeast. There is only one Italian pizza without yeast that I am aware of and is the Pizzata di Recco. But I would say that this is not really a pizza but something between a flat bread and a focaccia.
In any case, you will find yeast in Roman style pizza, Neapolitan Pizza, focaccia and basically any pizza style that comes to your mind. So we can consider that yeast is in pizza one of the most important ingredients, one that you cannot avoid.
When we talk about yeast for pizza we are referring to the "Saccharomyces cerevisiae". As you already know, thanks to this yeast we can observe the Pizza rising phenomenon. But how does yeast work?
Without going into too technical details it's important to mention that yeast works and is "alive" in presence or absence of oxygen. Of course its behavior will be different. For us, when baking pizza, it's critical to know that when yeast has consumed all the oxygen in the dough, it will start the so called fermentation (specifically alcoholic fermentation). That means that to survive, the yeast cells, start to "eat" the sugar that is naturally available in the dough (thanks to the maturation process).
You can then understand that it's also thanks to the yeast that we have a fluffy or airy crust. It's in fact thanks to it that we can observe the pizza growing while we bake it. Moreover yeast, thanks to the alcoholic fermentation, brings also a specific taste to the pizza dough.
I am not going to compare this yeast with the sometimes called natural yeast, or sourdough. They are very different and even if they are both responsible for the fermentation they behave in completely different way. Let alone that they work with different fermentation (alcoholic vs lactic vs acetic). I also think that not all pizza styles can take advantage of the effects of sourdough fermentation. While with standard yeast you can prepare every pizza style without issue.
Fresh yeast VS dry yeast VS instant yeast
Normally we can buy the same yeast in different shapes. However at the end of the day they are all Saccharomyces cerevisiae. So what is the difference between fresh yeast and dry yeast? Well, what changes is the way we use it first. At the same time also the way we store it. But let's first start with the three categories of yeast:
fresh yeast
active dry yeast
instant dry yeast
Fresh yeast
Fresh yeast is without a doubt the most used yeast for Italian pizza. You can buy in packages of 40 gr. or more and you find it in store fridges. There is not a general rule on what part of the grocery store fridge you will find it. Often is found close to eggs or milk products. But definitely not a rule.
This is how it looks like: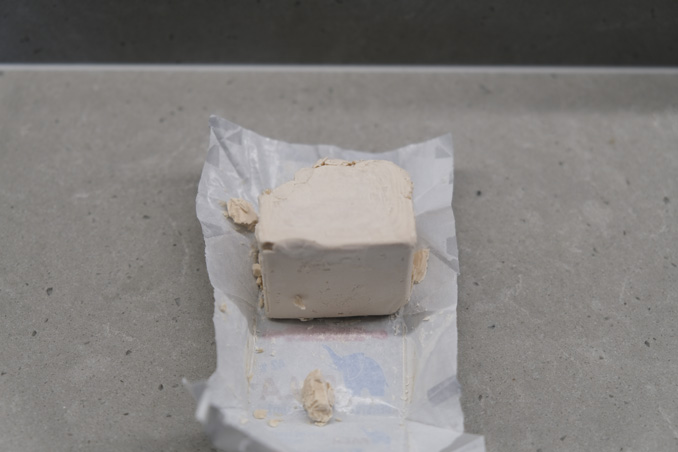 I want you to notice the paper that is used to store fresh yeast. It helps to keep the humidity intact. In fact fresh yeast needs to stay at low temperature (4 Celsius) when stored before usage but also needs to maintain that temperature with its own humidity.
As soon as you open the fresh yeast package, the paper is not doing anymore a great job in maintaining and preserving it. Therefore you can expect a faster degradation of fresh yeast that will expire definitely before the date indicated by the producer. I will share later what I do to keep fresh yeast last for longer.
One recommendation: if you buy fresh yeast try not to keep it for too long out of fridge. It degrades very easily. With the side effect that its fermenting power will be negatively affected. I suggest to keep the fresh yeast close to other cold ingredients you buy from grocery store or supermarket to reduce the risk of degradation. Also make sure to put it in the fridge as soon as possible.
Is very easy to understand how to use fresh yeast for pizza. Take any Italian pizza recipe and just use it in the recommended dose. Either dissolving it first in water or directly in flour. If you need to use cold water there is no issue.
Active dry yeast
Active dry yeast for pizza is also commonly used. It is created selecting some specific families of yeast which are resistant to thermal changes. The fact that is dehydrated yeast makes it very good option for countries where humidity is high.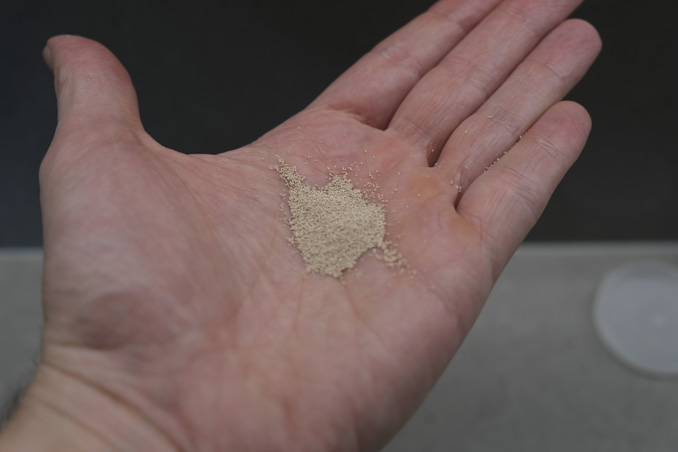 I admit that I don't use this yeast. For mainly one reason: the need to follow the process to activate dry yeast. As you may know you need to use lukewarm water (35 Celsius), sugar and wait for about 10 minutes before you can use it. This is how you activate dry yeast which is otherwise inactive. As I often work with cold water for my pizza dough, I find active dry yeast not ideal.
On the other end, I am aware that in several countries this is one of the most common yeast to bake. If that's your case then I suggest you to activate the yeast with lukewarm water with only a minimal part of the water of the recipe. After the activation of the dry yeast you start to knead using the recipe remaining water. You should be able to use also cold water for the recipe (beside the one used for yeast activation).
Remember that 1 gram of active dry yeast is equivalent to 3 grams of fresh yeast! So use active dry yeast with this information in mind, doing a bit of math.
Instant dry yeast
The third category of rising powder is instant dry yeast. When you open the box that contains it you may think is exactly the same as active dry yeast. However they are very different.
First of all, instant dry yeast does NOT require any activation process. As soon as you take it out of its box it is ready to be used. That makes instant dry yeast for pizza much more convenient. You can forget about using lukewarm water and preparations. Just start kneading pizza straight away.
One recommendation in case you buy instant dry yeast in bigger boxes: as this yeast is pretty porous you want to keep it in a hermetically sealed box. Most of the time the producers are directly providing the right container. But once you open it make sure you store instant yeast in fridge. Moreover you should always follow the producer instructions for storing in the right way.
Remember that 1 gram of instant dry yeast is equivalent to about 2 grams of fresh yeast. Also for this proportions, though, is better to follow the instructions you will have from the producer.
What yeast is best for pizza
After talking about the different types of yeast it's time to cover one of the key topics of the Ultimate Guide to Pizza Yeast: what is best yeast for pizza?
Can you imagine the answer? I guess so: there is not a best yeast. All of the three will work perfectly fine if well balanced. Therefore we should move the conversation into a different perspective.
The first element to consider is what is the most common yeast that you find in your country. Making pizza should be a pleasure. So you cannot go crazy to find a specific yeast. You need to work with what you have. The good news is that all yeasts types will work to make pizza.
In second place let's think about how to use them. Fresh yeast requires that you store it in fridge and with some care. If you don't store yeast properly in fridge you will end up throwing away a lot of it. In that case better to use dry yeast.
I personally prefer to use fresh yeast for a reason: I consider it more reliable. It's rising power is pretty standardized if well stored. So you can be absolutely sure that when you open a package of fresh yeast from grocery store you use the amount of recipe and you get the wanted result. Moreover is easier to understand when the fresh yeast is not good anymore. Color and smell will tell you immediately that if you are using it you are taking a risk.
With dry yeast (instant or active) you need to make sure it is active. Now, active dry yeast requires activation in any case, so no problem with that. But with instant dry yeast, especially after you opened the box and kept in fridge for a few weeks, you risk to have a much less rising power than desired. On the other end, if well conserved, instant dry yeast is easier to use. Especially if you follow my Italian pizza recipes where I almost always use cold water.
Last information to consider is about the amount of yeast to use. Even though I provided you the rule that says that for each gram of fresh yeast you need 1/3 or 1/2 of dry yeast, this is not always a perfect rule. Especially when working with recipes that foresee a very small amount of yeast. In such cases you need more dry yeast than what recipe says. That makes the efforts to weigh the yeast in a recipe a very hard task.
In conclusion, as yeast for pizza, I use the following ranking:
fresh yeast
instant yeast
active dry yeast
How much yeast for Italian pizza
There is not a single answer to the question how much yeast to use for Italian pizza. And that's absolutely normal I would say. There are many variables to keep in consideration when making pizza. One cannot have a single answer.
First of all it really depends on the pizza style you want to make. For now let's stick on the most common authentic and traditional Italian pizza. We can find some common percentage range. Then it depends on how fast you want the rising to happen and what kind of structure you are going to have for your pizza dough. In other words, also within the same pizza style you can change the percentage of yeast to use in the recipe.
Of course, keep in mind that we will be always sticking on the baker percentage methodology. So when I talk about percentage of yeast to use for pizza, you need to calculate in on the flour. Every recipe of a professional baker normally starts with flour. All other ingredients are calculated on it.
For Italian pizza the most common quantity of fresh yeast to use is:
As said before, this range is just an indication. But gives you the idea of the pretty important span. In general we can say that for Neapolitan style pizza we tend to use less fresh yeast (from 0.1% to 0.3%). While for pizza in sheet tray and focaccia we go higher, even up to 3%. But again, this really is an indication. A lot of variables need to be considered when kneading. So always follow what the recipe says.
How to store yeast
As last information, I want to share in this ultimate guide to pizza yeast how I store yeast.
Now, dry yeast is pretty straight forward to store. Especially if you can buy small bags and avoid to keep it open. If this is your case simply keep the dry yeast stored in dark and dry place.
For instant yeast is very common to find big packages. I normally buy from a well-known Italian brand that sells something like 100 grams at a time. Definitely too much if you are not using it in a pizzeria. Of course, after open it, instant dry yeasts goes in fridge. With hermetic lid. Then you need to follow the instructions from the producer about how long you can keep it open and in fridge. In my case, I used instant dry yeast for pizza for much longer time than the one suggested from the producer. It always worked. The real problem is that you never know if it is still active and most importantly, how much active it is.
Last but not least we can cover how to store fresh yeast. It is obvious that you need to keep it in fridge. And until you take it from the store and keep it closed in fridge there is not so much to say. But the real problem is that after you open the packet it will degrade much sooner than the expiration date indicated. So, to extend the life of fresh yeast I follow a couple of simple rules.
First of all, I never throw away the paper that covers the yeast. Also, I open it very gently so I don't rip it. My final goal is to be able to somehow close again the yeast in the same paper. Unfortunately though you will never be able to really close the paper as it was when you buy fresh yeast. So I have some very small glass containers with hermetic lid. I close the yeast the best I can in its paper and then move it to this glass container. In this way you create a micro-weather that will help storing the yeast for a bit longer.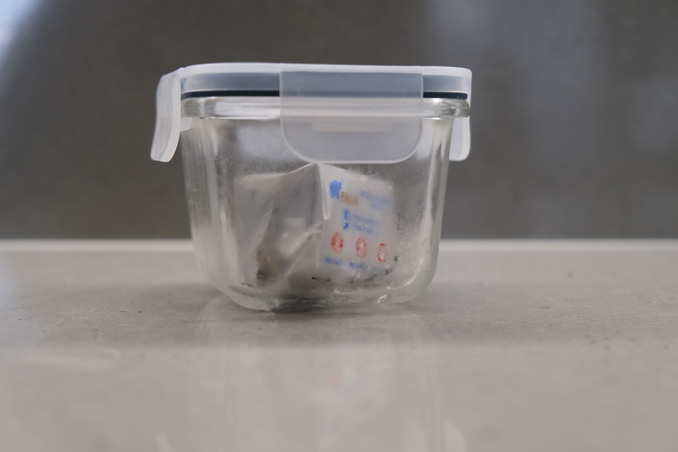 And if you are curious about freezing yeast: I don't do that. In theory you can freeze yeast. I personally experienced several issues with the usage of freezer. Mainly I noticed a drastic loss of rising power, if not a complete loss of it. So I avoid freezing.