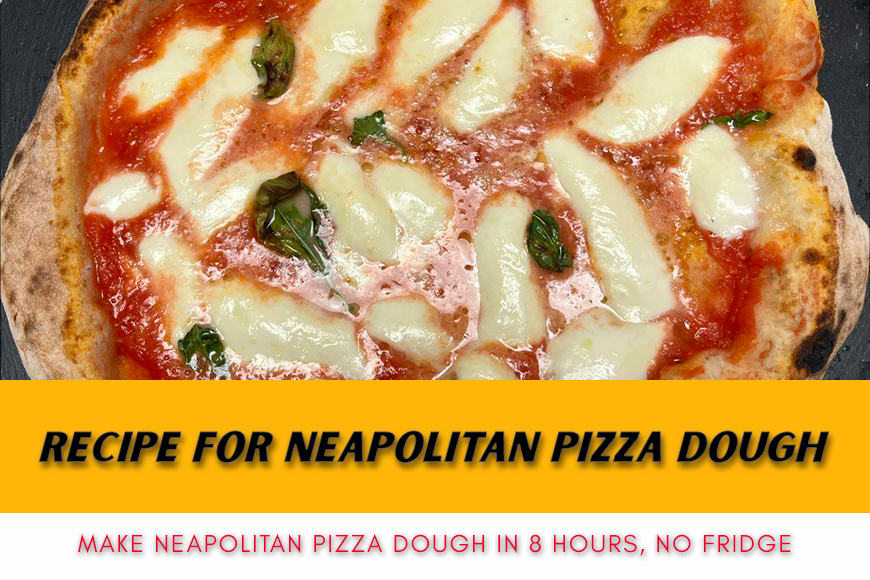 Recipe for Neapolitan Pizza Dough
Posted by

Date

May 29, 2022
Last Updated on July 18, 2022 by Stefano
There is not just one Neapolitan Pizza but at least three. This is how to make Neapolitan Pizza dough kneading by hands and with a process that only requires 8 hours. We are talking here about the authentic and traditional Neapolitan Pizza. The one that you can taste in some of the most famous pizzerias in Naples.
It's in fact not known to everybody that Neapolitan Pizza style evolved over time. So the concept of this traditional Italian Pizza has been split in multiple pizza types. As I write I think we can without mistake talk about three Neapolitan Pizza styles: traditional, modern and the so called "rubber boat". Are you surprised by that? Well, don't be.
In today's article I am not going to discuss the history of the Neapolitan Pizza evolution. On the contrary we will go straight to the point and I will share the full recipe to prepare the traditional Neapolitan Pizza.
Following is the summary of this article:
Are you ready to make perfect Neapolitan pizza dough with low effort and short fermentation time? Let's go!
Neapolitan Pizza Recipe Dough
This time I am not using the recipe from my Neapolitan Pizza Dough Calculator. The reason is that I want to make this pizza with room temperature fermentation. That means that we are going to follow the traditional method of preparing Neapolitan Pizza dough. In other words we will knead by hands and we will arrange the entire pizza proofing to last maximum 8 hours.
Here is the list of pizza dough ingredients that will be enough for 5 Pizzas:
| Ingredient | Quantity |
| --- | --- |
| Flour | 775 gr. |
| Water | 500 gr. |
| Fresh Yeast | 1,4 gr. |
| Salt | 17 gr. |
Let me spend a few words on flour. Once again, we are going to prepare the traditional Neapolitan Style Pizza. Specifically this the same one that is covered by the regulations maintained by the AVPN Association. Therefore we are kind of obliged to use a type 00 or type 0 flour. We can only add up to 10% of less refined flour.
Moreover, you want to use a flour that has a W value of 260-280 to sustain 8 hours fermentation at room temperature. In the pictures that you will find below I am using 90% of Type 0 flour and 10% of Type 1 flour. For a comparison between flours Type in countries different than Italy I suggest you to read my previous article.
Pizza Dough Kneading and First Fermentation
If you are preparing this Neapolitan pizza dough recipe during summer make sure to use water from fridge. I know that this is not what you normally do when kneading by hands, but believe me that it will help in the process I am going to share.
To make is easier to read we will split this paragraph in multiple parts, starting with the initial kneading phase.
How to knead Neapolitan pizza dough by hands
To follow the tradition we will start adding water in a bowl and then dissolve all the fresh yeast: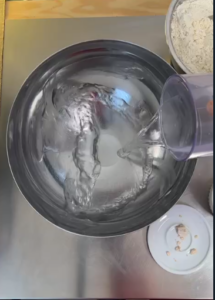 We then star adding flour in the water with the help of a spoon. While with a fork we start mixing water and flour. Don't worry if in this phase you have lumpy flour. That is fine. Just be careful not adding too much flour at a time: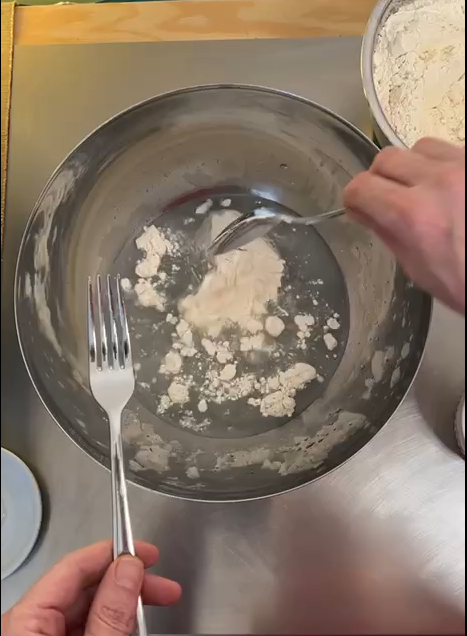 When the dough reaches the consistency of a cream (so it's still liquid) we add salt: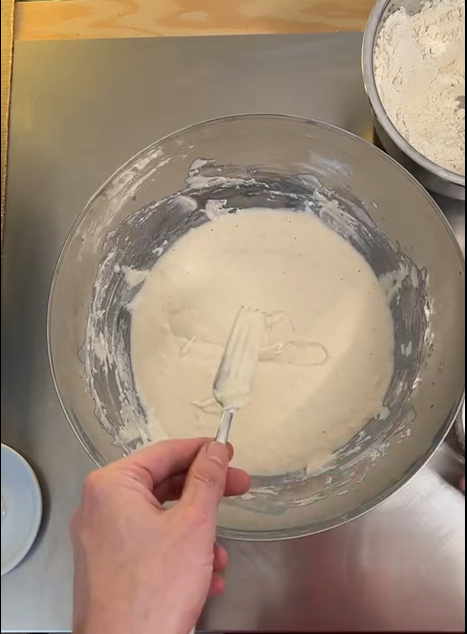 We then continue to knead until we consume almost all flour, but not all of it. We want to keep some flour to help the next phase of kneading:
For the last the last phase of kneading we want to move on our countertop (or on a kneading pad if you have one). Here we will use the remaining flour to knead and incorporate as much air in the dough as we can: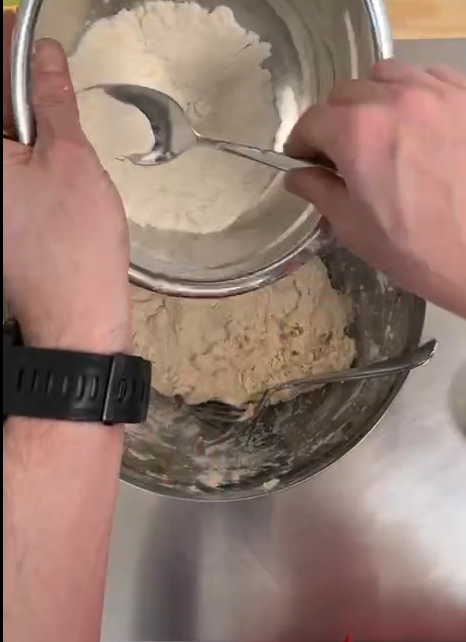 You should stop kneading when you feel that the dough becomes too much elastic and does not want to be stretched anymore. When that happens it's time to have the dough resting.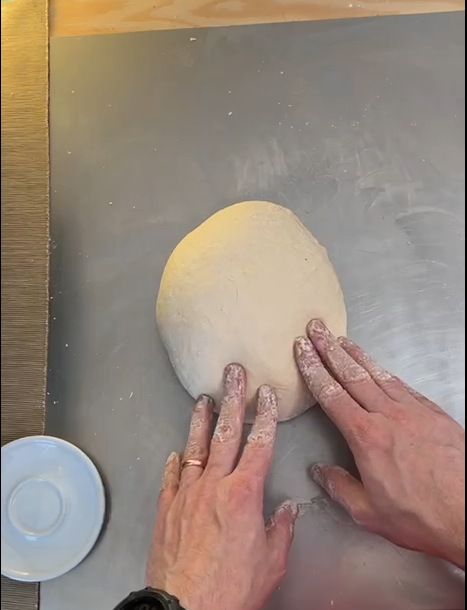 Stop and go kneading before first fermentation
After you finish the previous phase you want to cover the dough with a well wet kitchen towel. Make sure the towel is wet but is not dripping. Then have the dough resting for about 20 minutes: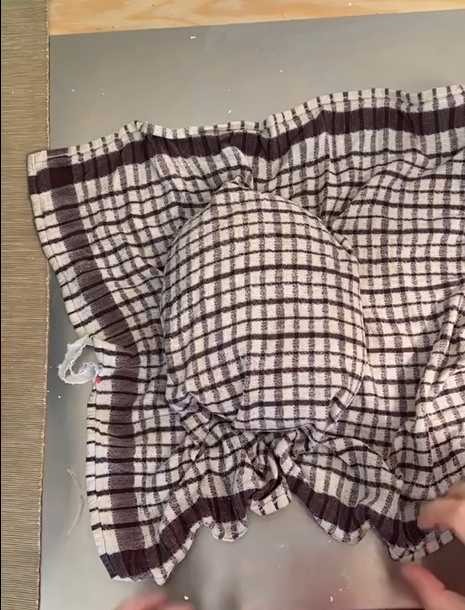 After 20 minutes, uncover the dough and start again kneading for about 30/40 seconds. To start just turn the dough upside down. Then roll-up the pizza dough from far end toward you until it becomes another roll: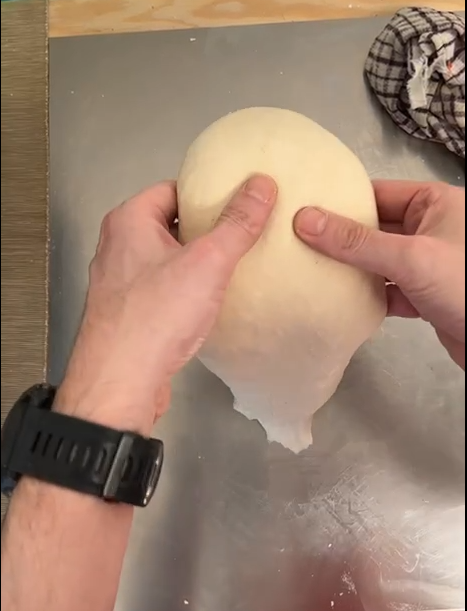 Then repeat for two more times at a distance of 10 minutes and then 5 minutes. In total you will have three stop&go kneading.
Prepare first fermentation
After the last Stop&go, prepare a container with a lid adding a bit of oil in it. Here is where our dough ball will have the first bulk fermentation.
Once ready move the dough into the container and let the fermentation start for about 4 hours.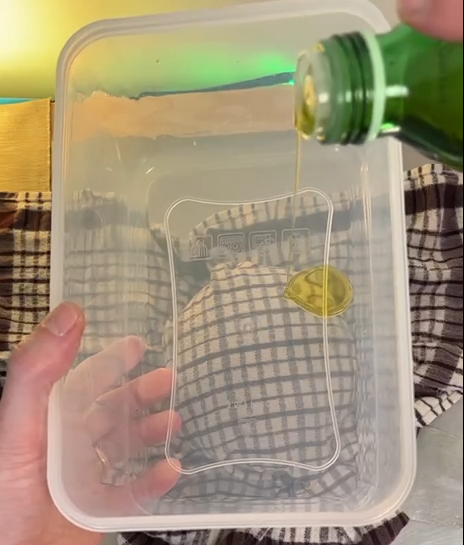 Shape Pizza Dough Balls and Second Fermentation
It is very important to not over proof the dough during the first fermentation. Otherwise you will face issues later on before baking pizza. So try to avoid to go over 4 hours of fermentation. The yeast in this pizza recipe is calibrated for kind of short proofing period.
In any case, take your kitchen scale and a spatula. It will help to divide the dough in smaller pieces. I prepare dough balls of about 250 grams each: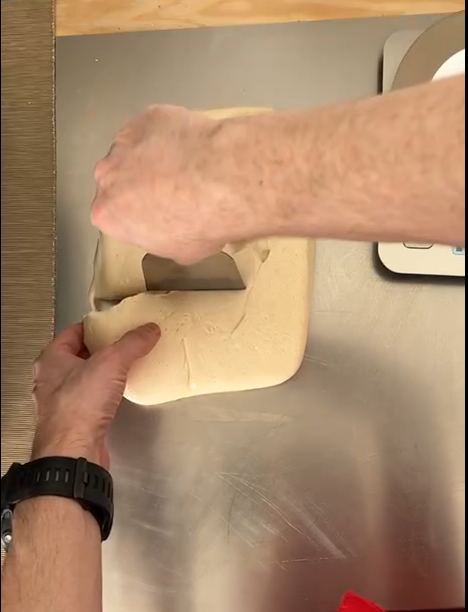 When you prepare Neapolitan pizza dough balls, make sure that they are well close on the below part. If you skip this control you risk to have a wrong proofing. Also do not manipulate too much the dough. Try to have a gentle touch when creating the pizza dough balls.
If you have doubts on techniques to create the dough balls leave me a comment or drop me a message. In theory I can prepare an article on this topic. In fact there you can use multiple techniques here. Any of us have a favorite one that is considered to be easier.
As soon as you finished with dough balls, move them in a container with lid and let them rise for 3 or 4 hours, depending on your room temperature.
Prepare Oven for Neapolitan Pizza Dough
After almost 4 hours your dough balls will be proofed and relaxed at the same time. So it's time to prepare our oven before stretching and baking.
I use a Ooni Koda 16. But whatever oven that can achieve 450 Celsius degrees will be fine. Don't expect a great result if you are not able to bake at high temperature. One of the prerequisites to make Neapolitan Pizza is to be able to use a proper oven!
Finally, when temperature of your oven is high enough is time to toss pizza dough balls, add your favorite topping, bake and enjoy!!