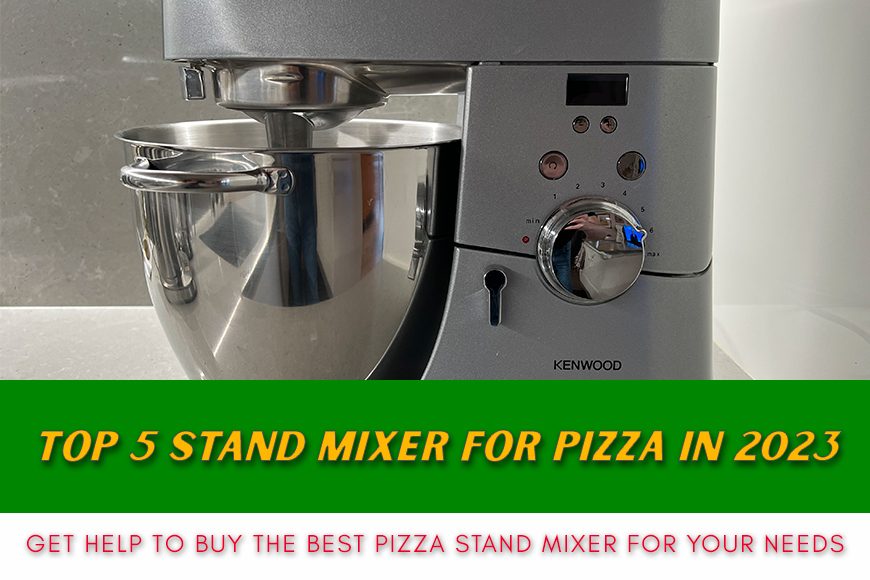 Top 5 stand mixer for pizza in 2023
Last Updated on May 25, 2023 by Stefano
When it comes to invest money in a stand mixer for pizza the decision of what to buy is not always obvious. Thanks to my list of top 5 stand mixer for pizza in 2023 I will try to make your life easier and answer the question what mixer is best for pizza dough?
In a previous article I explained with a lot of details what technical details to consider when choosing a mixer for pizza. At the same time I recommended mixer accessories that from my point of view are important. Specifically I shared with you some details about the various hooks or beaters.
This time I will be going much more to the point. I will be providing a list of stand mixers that I would buy if I was on the market. Once again I will provide you different options based on your budget. However, I strongly recommend to save more money and buy a more expensive mixer. If you think about it, this is a once in 20 years investment. Buying high quality stand mixer for pizza will be a long term investment. Let alone that if you buy the right one you will for sure use it also for other recipes, not just pizza.
As I wrote before, this time I will focus on pizza stand mixers only. And they will be the ones that are ideal for home use. You will often also find a link to buy the pizza stand mixer. This is part of my Amazon Affiliate Program. No costs for you but if you buy using my link I will get a commission. Nevertheless, my focus is not on selling to you something but on selecting products that will make your pizza at home easier.
Let's then dig into my top 5 stand mixer for pizza in 2023 topics:
I am confident this article will be of help if you finally understood that you should use a mixer for pizza dough 🙂
Technical details to consider
When it comes to make a pizza dough with stand mixer you want to be sure of the following:
the bowl is big enough
the power of the stand mixer motor is sufficient
you are using the right hook or beater
you learn how to manage temperature
Especially the first two bullet points need to be considered carefully when buying. The best pizza dough mixer is also the one that fits exactly your needs of… guess what… making pizza 🙂
Therefore I am going to recommend some mixers that are using a decently big bowl and have enough motor power. I should mention though that in majority of cases the two technical details are growing together. So for a bigger bowl you generally have a more powerful motor provided by the brand.
And one more clarification on the bowl: I recommend going for the bigger you can afford. In fact, if you are going to make pizza with mixer, I also expect that you are preparing higher quantities. But even if this is not the case, having a bigger bowl means that you can increase amount of pizza every time is needed. And believe me, when your friends and family will taste the pizza we are making together they will ask to be your guests a lot of times 😀
Best in class: Kenwood and KitchenAid
From my point of view, Kenwood and Kitchen Aid produce the best pizza dough mixers on the market. They are often expensive but you pay for the excellent quality. Moreover you can buy a lot of extra accessories. In fact I mention them as pizza mixers but in reality they are much more than just for pizza. Also I want to mention that buying these brands also means you have a generally good support in case of issues.
Let me introduce the models that I specifically recommend.
Good value: Bosch and Cuisinart
It's very unfortunate that Bosch mixers are not available in United States. Or at least I don't see them sold on Amazon. In fact I think that they are an excellent value for money. Especially considering their reliability and the amount of accessories they are providing.
On several Italian pizza forums users love their Bosch stand mixer. I admit that I never used one but I have more than one friend with them. Especially I know a person who bought a second one after the first one he had failed. I think that this says a lot. In any case, the model I recommend is the so called MUM5. It's the most powerful available in the Bosch stand mixers family, even if it does not come with the biggest bowl ever. Actually it's even small in my opinion. But it does the job when it comes to make pizza dough with stand mixer. The good news is that the price:quality ratio here is very high!
However, that does not mean that we don't have alternatives also for our US friends. Actually the one that I am suggesting here is available everywhere. From what I can read online this is also considered excellent value for money. It reminds from its shape a KitchenAid, even though I think is not exactly same. I am referring to the Cuisinart SM-50TQ.
Outsider: Ankarsrum 6230
The last mixer for pizza dough that I want to mention is the Ankarsrum 6230. This is a pretty different kitchen accessory. I am not sure if we can define it as a stand mixer. You will in fact not find any of the standard hooks you are used to. Not only. I am pretty sure that you will need to learn how to use it to make it your best pizza dough mixer.
I personally have no direct experience with it. However, I found it very intriguing. I would love to try it honestly but so far I did not have the opportunity. In any case I watched a lot of YouTube videos to understand if the Ankarsrum has the potential to be my next pizza stand mixer. I admit I noticed a lot of excellent pizza dough created with it. From Neapolitan style pizza to high hydration pizza.
That is why I decided to mention it in this list of top 5 stand mixer for pizza in 2023. Here we go the outsider of this article:
Final rank: Top 5 stand mixer for pizza in 2023
As you probably know I am using a Kenwood stand mixer for pizza. I am very happy with it and I bought a lot of accessories over time. It is pretty old (almost 10 years) and still running strongly. Believe me when I say that I use it a lot and also with tough dough that is not exactly good with such mixers. That said, you can imagine that from the good experience I had I would buy it again.
At the same time one of my closest friends has a KitchenAid Artisan also very old. He also put a lot of stress on it and when needed he was also able to repair it by himself!! To me this means a lot!
So when making my ranking I considered first of all my experience, then the one of my friend and finally the huge amount of posts on forums I am reading daily. Let me anticipate that, to me, gold and silver medal where very hard to assign, but I ended up with this:
The KitchenAid Professional 600 is the winner. It comes at high price, true. But the big bowl and the reliability of the brand makes it the best option is want to go serious not only with pizza but in whatever preparation.
The silver medal goes to the Kenwood Baker XL. I love the brand and I have a personal great experience. This model has been built thinking at bakers. And the fact that you have a scale directly on the bowl to me is a big plus.
The bronze medal goes to the outsider Ankarsrum 6230. I am reading a lot of good reviews and it seems a perfect help to make pizza. Maybe it lacks a bit of flexibility when it comes to accessories but I would not focus on this aspect if we are searching for the best stand mixer for pizza.
In fourth position is another KitchenAid. The Artisan model. Everything is excellent and it would be even at first place. But to me the bowl is too small.
Least but not really last is the Bosch MUM5. This would win the best price:ratio. The price and the amount of accessories you get is unbeatable. So if you are searching for the best value stand mixer for pizza go for it!