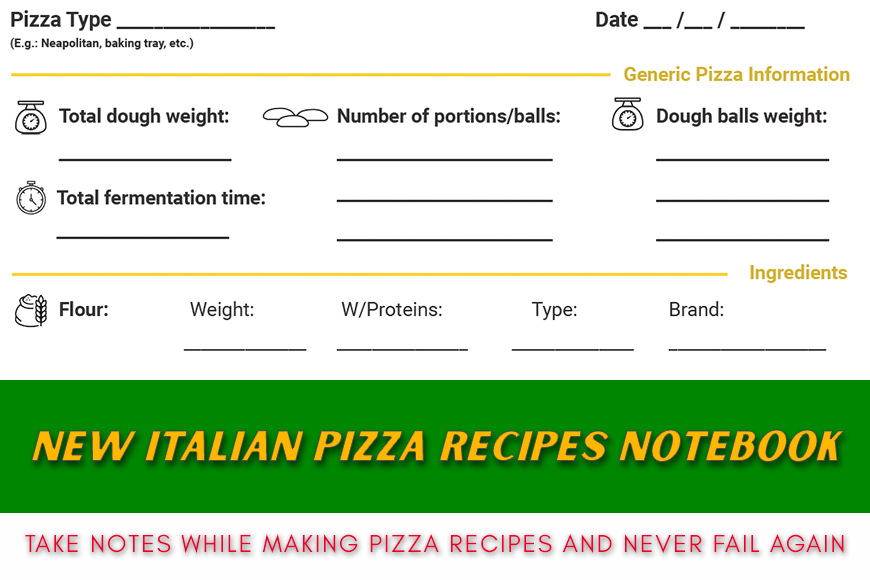 New Italian Pizza Recipes Notebook
UPDATE 05/22: You can now buy a printed version of the Italian Pizza Recipes Notebook. You can order it worldwide and it's ideal if you prefer to take notes by hand. Click on the following link to order your copy:
Are you ready to the download new FREE version of the Italian Pizza Recipes Notebook? I am very excited to share the new version of my recipe notebook. I updated it after using pretty extensively my previous pizza recipe notebook. In fact I realized that I could not always keep track of every steps to make pizza with the previous version. I needed to change several fields.
I initially used my previous version of the Pizza Notebook as a kind of recipe journal notebook. An Italian friend of mine made one in our mother tongue and I used his version to personalize mine. Moreover I translated everything in English.
At the beginning I thought that my recipe notebook was actually the best pizza recipe notebook I could use. However, after some time and a lot of pizza recipes created and modified, I found it not enough.
So I decided to modify it and of course make it available for you!
Let me share a bit moure about it:
If you are just impatient and want to jump directly on my new pizza recipes notebook, feel free to click immediately on the button below:
Notebook to write recipes: why?
Before telling you more about how to download and use my new pizza recipe notebook, I want to share why you need it.
Taking notes while you make pizza is a game changer. For a couple of reason.
Firstly you don't have to remember what you did when you created a perfect pizza dough. Everything will be in your recipe journal notebook. Once you want to prepare a new pizza evening or pizza party you just take your pretty recipe notebook and search for the dough you liked more.
At the same time the opposite is valid. If you made a pizza dough that you did not like, you can be sure you will not repeat the same errors!
Secondly, if you like to experiment and make changes in how you make pizza dough,  you want to make sure that you keep note of your progress. My recipe notebook  is definitely going to help in making pizza!
How to download Italian Pizza Recipes Notebook
You have two ways to download my recipe notebook. The first one is to share with me your email address. Don't worry because I am not going to send you unwanted messages and your e-mail address is kept safe. I hate spam and the only messages you will receive are news from this website. Nothing else.
It's pretty straight forward, simply click the button below:
The second way to download the new notebook to write recipes is the one in case you you have already received the previous version. In this case you check your mailbox, a dedicated email with a direct link has been already sent. Therefore no action is required from you. However, in case you did not receive my e-mail, please check your spam folder and if also not there drop me a message!
Creating your best pizza recipe
I learnt with time – mainly thanks to my family recipe notebook – how important is to write down recipes. I remember my mum and my grandma at the time when I was very young. They had two completely different approaches when preparing food.
My grandma (from my father) was doing everything by heart. Most of the times she was preparing pizza without even using a scale. Same was for other traditional food recipes from my area. On the other side my mum was taking notes of the most important recipes. Ingredients first and process then. I guess you have seen before the classic agenda used to write down recipes. I believe that my mum learnt this approach from her mum….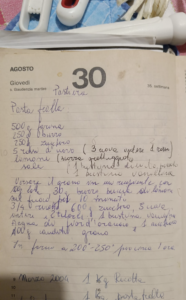 I follow my mum when making pizza. I take notes.
This is the main reason why I use extensively a notebook to write recipes. It's to keep the right approach.
I created the new Italian Pizza Recipes Notebook to make sure I am able to reproduce the pizza dough I like more. The structure of the notebook is straight forward. Let me share a bit more details, even before you decide to download.
     A two pages Italian pizza recipe
First and foremost, I considered necessary to have enough space to write some generic info as well as what are pizza ingredients to use: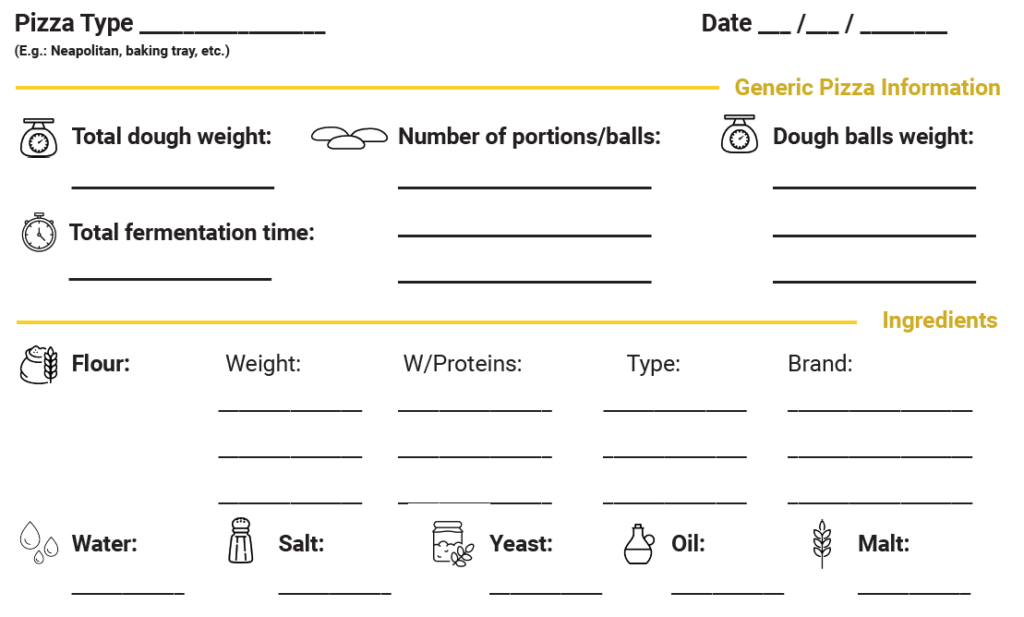 Those are key details when making pizza at home. They actually were already in the previous version of my pizza recipe notebook but I slightly modified this part. Now you have the options to write up to three (or more if you prefer) dough balls size and weight. I made this thinking at pizza in sheet tray or pizza pan. I often prepare the dough for different shape and size of sheet trays.
Then we have the part that I modified the most. It's the one about kneading method. It should be now super easy to take notes and follow the process when making the indirect method of kneading, maybe using biga or poolish.
Finally we move to the fermentation and baking. Specifically for pizza fermentation, you can check the field of the fermentation phases you decided to use in the pizza making process. And we conclude the first of the two pages with information about baking.

Finally we arrive to the second page of what I consider will be a pretty recipe book. Here you have a full A4 page to take all your notes!
I strongly recommend you to be detailed. Write also the feeling you had from a never used before pizza flour, for example. In any case you can make the best use of it as you prefer!
Take this opportunity and click the button below to download your FREE version of the new Italian Pizza Recipes Notebook!
Tag:best pizza recipe notebook, best recipe notebook, family recipe notebook, italian pizza journal, italian pizza notebook, italian pizza recipe notebook, kitchen recpe notebook, my recipe notebook, notebook to write recipes, pizza notebook, pizza oven recipe book, pizza recipe with dough, pretty recipe book, recipe journal notebook, recipe notebook cover