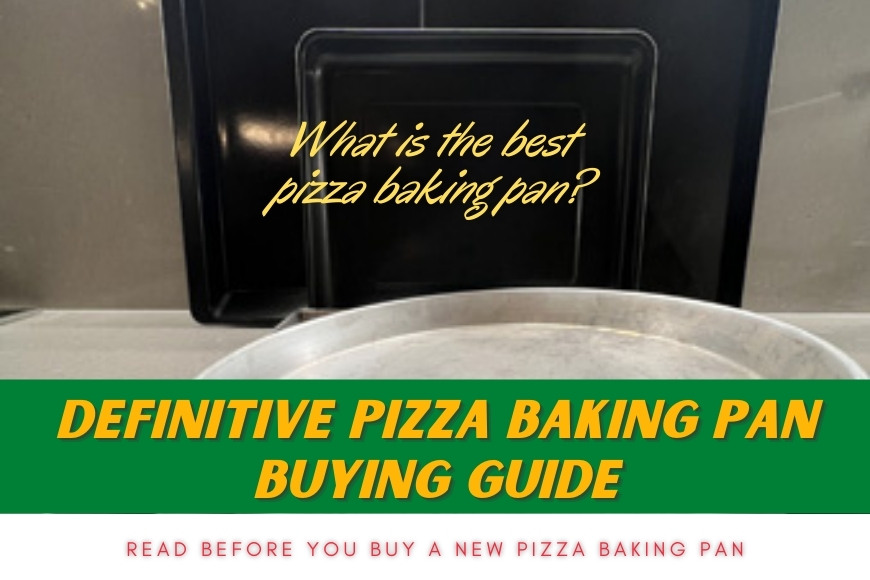 Pizza Sheet Tray and Baking Pan guide
Last Updated on February 8, 2022 by Stefano
When you start making pizza more often you will soon start feeling the needs of better equipment. The definitive pizza baking pan buying guide will help you in one of this situations, before you buy. In fact, especially when exploring new pizza styles, having the proper pizza baking pan or pizza sheet tray can help significantly. However you don't have to rush and click the buy button. You want to understand first if you really need to buy and what.
I went through the process of buying new kitchen equipment for pizza several times. In some situations I could not find too many details on what exactly I needed. In other cases I was lucky enough not to waste my money. But this is not always the case. When it comes to cooking pizza I think that I have collected a decent experience to share. Especially on what sheet tray to buy. We will discuss also if it makes sense to invest on a new pizza baking sheet or pizza baking pan. Because from my point of view it is not really always the case.
So, instead of following the trends, let's review together what is the best pizza sheet pan that makes sense for you and for the pizza style you are going to prepare.
Here is the summary of the topics:
I now have an affiliate links shop available on my website with offers on baking pans mentioned in this article. If you are interested in buying a new baking pan you can leverage my shop where I already filtered for you what I think works the best for making pizza.
Pizza sheet pan materials: steel, aluminum, iron
When it comes to pizza cooking I think that we should move our attention to three sheet tray or pan materials: steel, aluminum and iron. I don't consider sheet trays that are covered by non-stick surface. For pizza I avoid them at any costs, considering you often cook pizza at higher temperatures. And non-stick surfaces are not safe at high temperature.
The big difference between the materials is the way they conduct the heat. It can be faster or slower.
Specifically, an aluminum sheet tray, although aluminum has a high capacity of transfer the heat, is much slower in doing so. Part of the slowness is because aluminum sheet tray or pizza aluminum pan are thick. If they were not the risk is to have them bent because of the cooking temperatures. It is very common to find aluminum sheet trays used in italian pizzeria only to show pizza before it is sold. Generally it's not used to cook it (but this is not a rule).
Iron sheet tray has the advantage to transfer the heat to the pizza dough very fast. This helps a lot in pizza types that require to immediately "develop" their internal structure. Typically this is valid for high hydration pizza, like the Roma Sheet Tray pizza (pizza in teglia romana).
Finally steel sheet tray is also a very common pizza kitchen equipment. At least in Europe it comes for free with the oven. So this is generally something you already have at home. I use them for more traditional pizza recipes and they do their job pretty well. However, they are not the best in transferring quickly the heat. So you have to keep that in mind according to the pizza type you are preparing.
Subscribe now to my newsletter!
It's free, you will get a recipe notebook to download and you will never lose my new tips & tricks around the world of Italian pizza. I hate spam too, so no worries, subscribe with confidence:

What is best pan material to cook pizza
Asking which pizza tray is best does not get to any simple answer. The truth, as always, is that it depends. Mainly on the pizza style you are baking. So, if I want to be serious in a definitive pizza baking pan buying guide I need to provide you my honest opinion and experience.
Iron baking pan
I love the iron baking pan. I love it also because you can cook pizza without any fat on it. No oil, no fat, nothing. This is the perfect pizza sheet tray for high hydration pizza, like the roman style pizza.
However, be aware of the following:
I am referring to the "blue iron" sheet tray, not the standard iron pan.
iron baking pan requires to follow a process of burning when you buy it (I will prepare a dedicated article about that).
when I am saying that you can cook pizza without fat, I am referring to a pizza that has been first stretched in flour.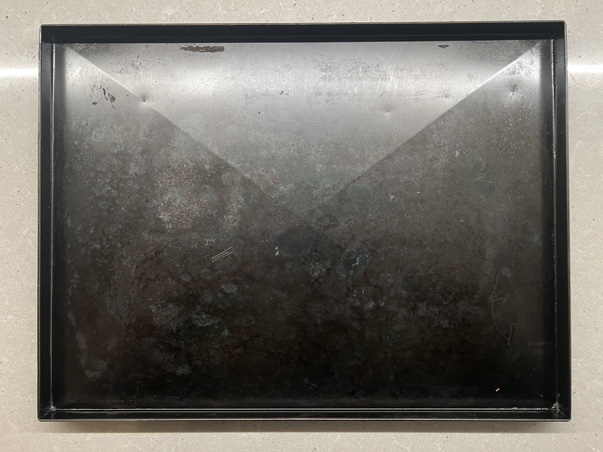 I have to admit that blue iron pizza baking pans are not easy to buy. I personally bought them in Italy and got them with me. However, to make sure that you get it right I am adding here a (referral) link to Amazon Germany for the exact product I have.
There is also a different type of iron baking pan. Is essentially iron but aluminum coated. This is another one I love and use very often. I use it for Focaccia Genovese. Also in this case I am sharing a link to Amazon Germany.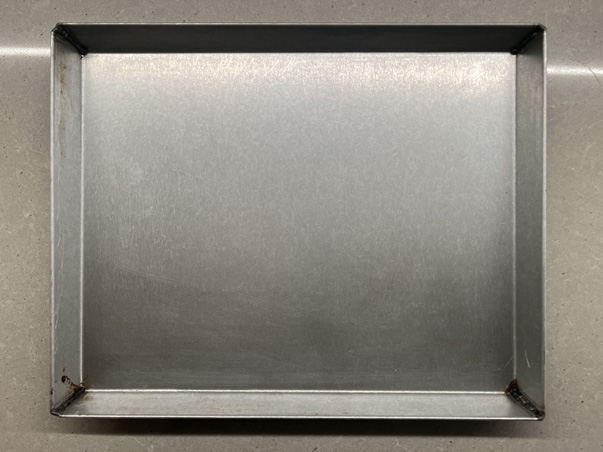 Aluminum baking pan
Easy: I am not using them. I have two and I don't like to cook any type of pizza in them. It's nothing wrong with such sheet tray, it's just a personal reason. I don't like the way they release the heat to the dough, especially in the lower part of the pizza. I often have the pizza that is not well cooked, so not easy to fine tune temperature and positions of baking pan in the oven.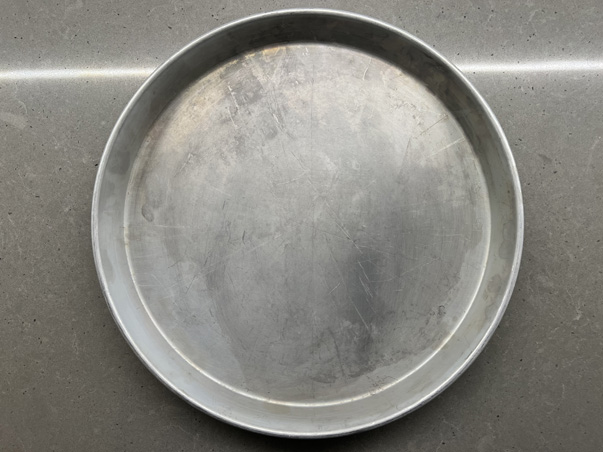 If you really need to use an aluminum sheet tray in your oven for pizza, then I would not use it for anything else than focaccia.
Steel oven baking pan
In Europe they are sold 99.9% of times with the oven. I am not sure in the rest of the world. They are of course not meant to cook just pizza. Steel baking pans are very flexible. No reason not to use them for pizza too.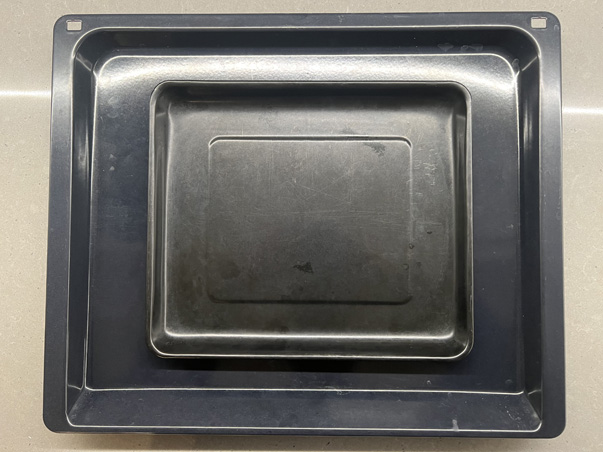 I use them pretty often in my traditional italian pizza prepared with my grandma recipe. I prefer to use steel baking pan for pizza with not so high hydration (generally not more than 70%).
They are definitely the kitchen equipment that you already have at home and that will not require any type of investment. Go for it!
Find the best size for pizza tray
I think that when you want to buy a baking pan for pizza you first of all need to know what fits your oven. So, once you know how big is the oven then you can buy the proper pizza sheet pan.
Therefore the first suggestion I have for you is to buy the larger pan you can put in your oven. Obviously this will grant that you can prepare less pizza dough balls for your guests at once.
If we stick to european standards, then the common measure is to have a pizza baking pan of 30x40cm as your maximum option. Just be careful when you buy the standard steel baking pans. Some of them are actually larger to fit the guides of specific ovens. So make sure the vendor provides the full measure and not only the internal one (that may be smaller).
I also recommend to buy some smaller baking pans or sheet trays. I have several of them in the measure of 30x20cm. The reason to have them is to taste different pizza toppings without wasting pizza dough. Of course this is specifically thought when you have not so many people as guests. With my wife we use them always. Just because we are in two and we don't want to over-eat.
I think that having a smaller pizza baking pan has also another advantage in case you are just starting with manipulating the pizza dough. Let's say if you are new to pizza preparation. In fact it allows you to manipulate much smaller pizza dough balls, making the pizza stretching process a piece of cake to learn.
And don't worry about the weight of the dough balls for each pizza pan. Just use my pizza calculator, provide there the size of your pan and you will have the perfect dough ball!
Subscribe now to my newsletter!
It's free, you will get a recipe notebook to download and you will never lose my new tips & tricks around the world of Italian pizza. I hate spam too, so no worries, subscribe with confidence:

What is the best pizza pan for baking in a home oven
You can absolutely use all pizza baking pans in your home oven. For a definitive pizza baking pan buying guide we need to be honest: there is not a best one.
However, you want to probably keep in consideration the maximum temperature of your oven and consider instead what material is more appropriate for the type of pizza or focaccia you are baking.
Let me give you some examples.
If you are cooking high hydration pizza and your oven is capable of very high temperature (for example 300 °C or 570 °F) then go for the blue iron pan. Start the pizza baking process with the pan touching the lower surface of the oven and then move it to the center after 7/8 minutes.
If your oven does not go very high in temperature, then you have no options other than prepare less hydrated pizza and stick maybe on the standard steel baking pan. Actually you can save some money and avoid buying dedicated pizza pans in fact.
Can you use pizza pan in a wooden oven
Yes, you can use all pizza pans I mentioned before in a wooden oven. However, I would for for blue iron pizza pan. Did you realize is my favorite? Yeah, I hope this is not affecting the neutrality of this definitive pizza baking pan buying guide.
By the way, once again, it's important to consider at what temperature to cook pizza. In a wooden is more complicated to manage temperatures. You will mostly have to control the temperature of the stone. This makes the usage of the blue iron pan a better option.
I am not against other pizza baking sheet usage in a wooden oven but I believe that if you have one you better cook directly on the stone of the oven. Without the "filter" of the baking pan. But this is of course always depending of what pizza style you are baking!
I am sure that I gave you enough food for your thoughts. Now you should be more conscious about the real need of having a dedicated baking pan for pizza.
Feel free to leave a comment or write me. And don't forget to share this article!
Subscribe now to my newsletter!
It's free, you will get a recipe notebook to download and you will never lose my new tips & tricks around the world of Italian pizza. I hate spam too, so no worries, subscribe with confidence: