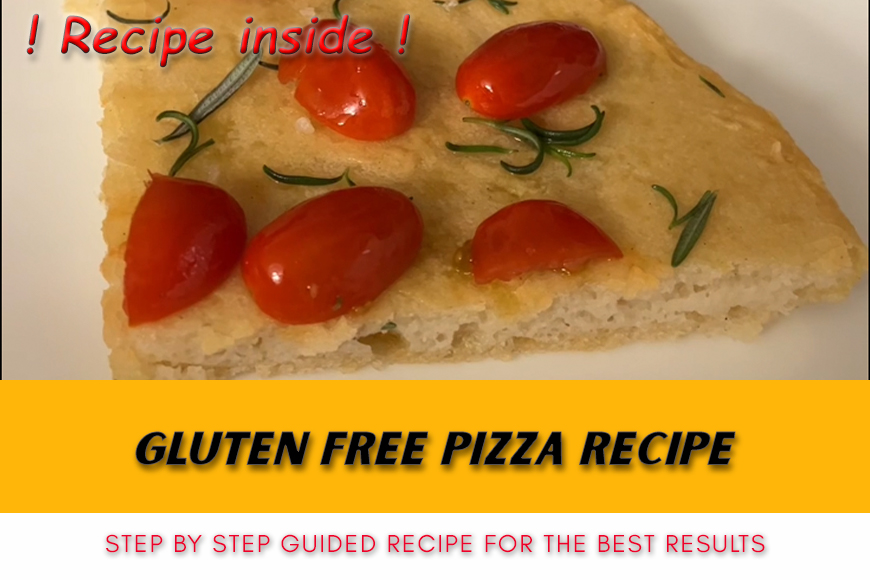 Detailed Gluten Free Pizza Recipe
Last Updated on November 6, 2022 by Stefano
There is a substantial difference in making pizza with wheat flour or with gluten free flour. In fact, when you miss the gluten the process to make pizza requires several adaptations. That means that the line between success and failure is thin. With that in mind I decided to share with you a detailed gluten free pizza recipe.
I am not going to explain in details why we change the pizza making steps. But I am going to share the details about how to make the pizza. I will share some of the "why" in another article.
One more preamble… the pizza dough I am sharing today is closer to a gluten free focaccia. This is easily explained by the fact that I want to give you the opportunity to bake it in a home oven. For a Neapolitan style gluten free pizza dough I am afraid you need to wait for another article. But no worries, I am already working on it.
To prepare this home made detailed gluten free pizza recipe we will cover the following topics:
Are you ready to make the best gluten free pizza you ever made?
What Gluten Free Flour for Pizza
When you buy a gluten free flour for pizza I suggest to search for a specific one for pizza. In fact most of the time they have the perfect the blend of flours and sticky to "simulate" a wheat flour gluten mesh. As an example I can mention probably one of the most known Gluten free pizza flour like the Caputo Fioreglut.
However if you don't have any option to buy a dedicated flour for pizza, then you may prefer to buy a gluten free flour for bread. They are pretty common to find in shops. Generally they help in creating a good crust structure thanks to the perfect blend of flours and sticky.
I personally don't have a favorite brand. Very often I use 80% to 90% of bread gluten free flour and the remaining of plain gluten free flour. The only reason for my choice is because of the taste that a plain white gluten free flour brings.
List of Gluten Free Ingredients
The amount of ingredients we are going to use will be sufficient for a 26cm round pan. As you will notice we are going to use high hydration, therefore we really need to use a pizza pan. Otherwise the dough will simply flatten and fall apart.
| Ingredient | Weight |
| --- | --- |
| Gluten free Flour | 250 gr. |
| Water | 225 gr. |
| Yeast | 5 gr. |
| Salt | 8 gr. |
| Oil | 5 gr. |
In this pizza recipe I used fresh yeast. The amount in the table refers to this one. You can replace it with active dry yeast or instant yeast. Just make sure you divide the above yeast amount by 3.
Step by Step gluten free pizza recipe
One of the biggest advantages of this detailed gluten free pizza recipe is that it will take very short time to prepare it. I spent a total of about 3 hours and half from start to end. Of course you don't need to work all the time, mostly you need to wait for the fermentation.
In fact, the difference between this pizza and the one we do with what flour is that in the first one we don't need to ease the complex sugar decomposition. Moreover we don't need to help the gluten mesh structure and development. So we can almost completely skip the so-called maturation.
Mixing ingredients
To prepare a gluten free pizza you don't need to work on creating the gluten mesh. So from this point of view the dough kneading is not really a kneading. But it's more a mixing indeed.
Considering what I just said, you can imagine that you can definitely mix by hands. However if you have a stand mixer then it will be a bit easier to avoid flour lumps. And in my opinion this is the only aspects of the mixing you don't want to fail. So play special attention to flour lumps.
The process foresees to put all ingredients together in a bowl. Start with flour and then simply add oil. Then, before starting the stand mixer, put on one side the salt and on the other side the yeast.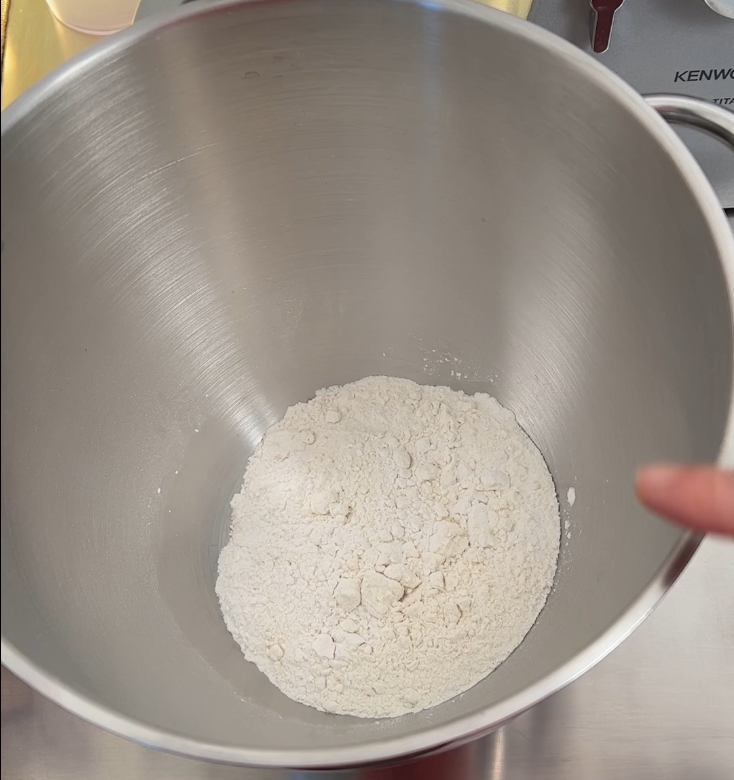 Now, start the mixing process at slow speed while pouring half of the water. When you see the water is absorbed you can pour the remaining water. This is where you want to make sure that flour lumps are dissolved. So you can increase the stand mixer speed. The entire mixing process will take just a few minutes. I believe that 3 or 4 minutes is a good reference.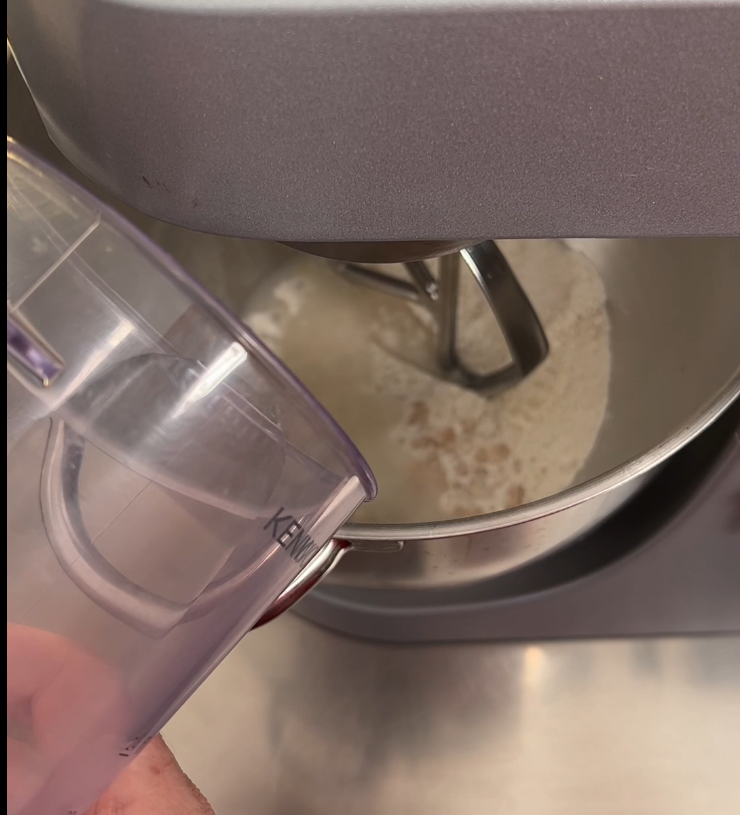 Fermentation
Once you finished mixing (or kneading if you prefer) you need to start the fermentation. So, try to use a round fermentation box or container with a diameter of 12/14 cm and hermetic lid.
Put some oil in it and spread it all over the container, included the lid. Then move the dough into it.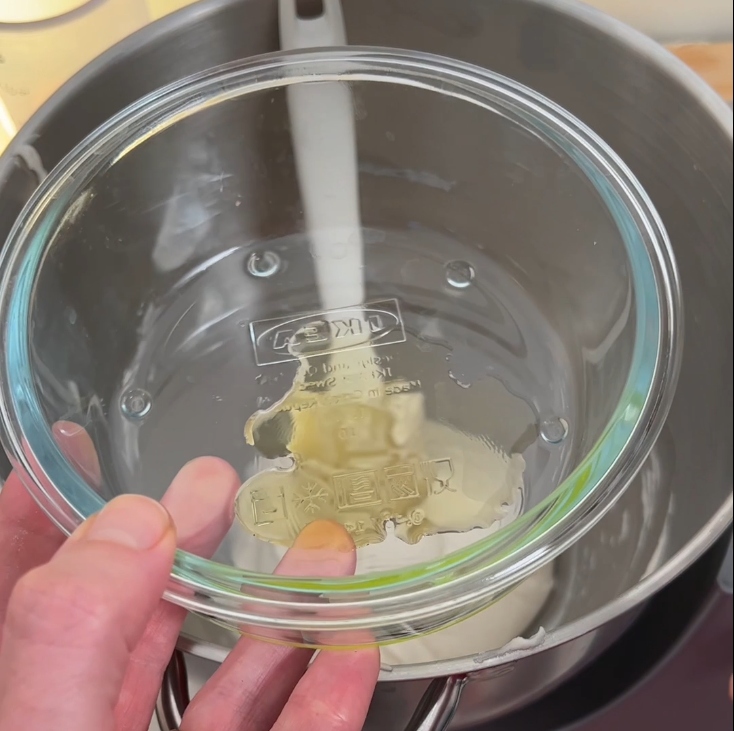 You will realize pretty soon that the dough is very liquid. That is fine, no worries.
Now let the gluten free dough have a rest of about 1 hour and then we are ready for the next step.
Gluten free Pizza Stretching
After about one hour we need to move our gluten free pizza dough in the pan we are using to bake. Also here, spread a bit of oil on the surface as a starting point.
Then, move the dough from the fermentation container to the pan. No worries is the dough does not look like the one of wheat flour pizza and it's much more sticky and extensible.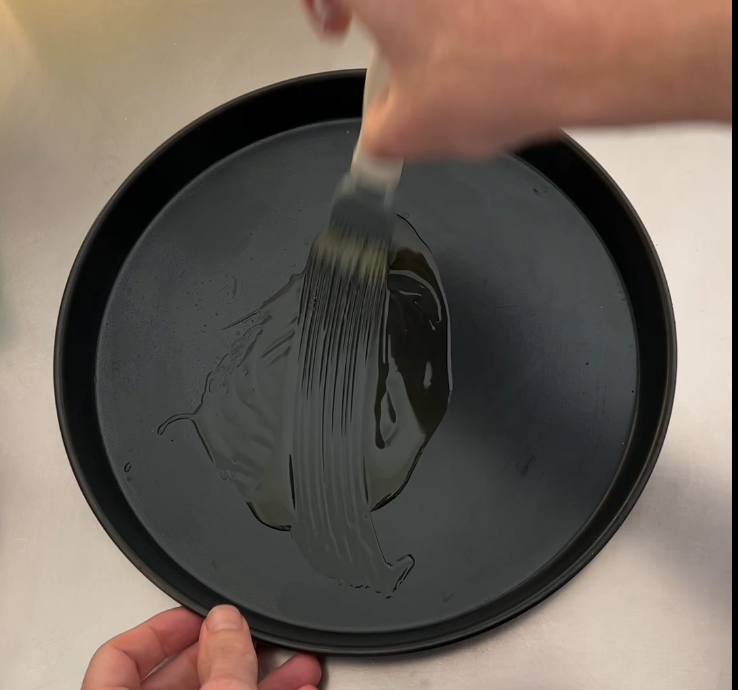 With the help of your fingers, stretch the dough to make it as even as possible. Also make sure it is touching the borders of the pan. Actually, if we want to really be precise, you are not exactly stretching, but more spreading the dough.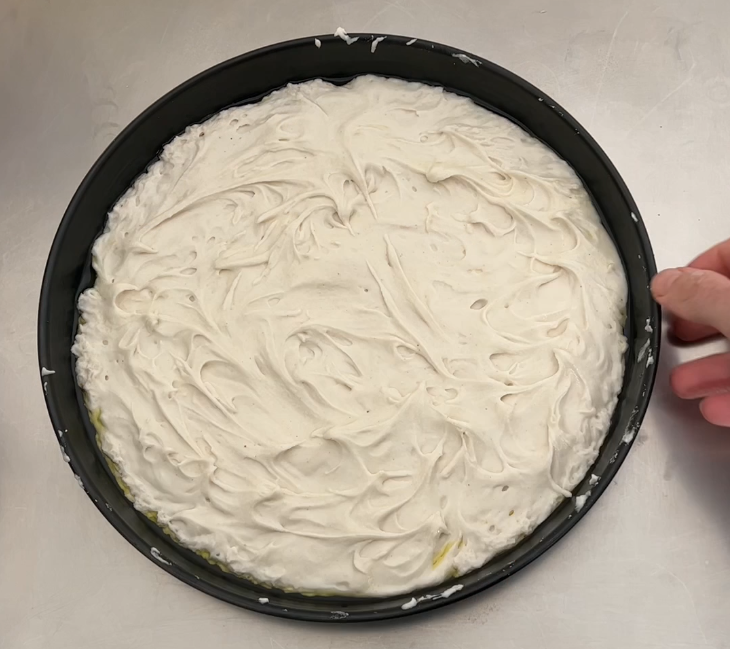 Now it is time to decide if you want to add a topping or if you want to have a white base. For example you may want to add a pizza sauce.
Whatever was your decision about the pizza topping, once finished, let it rest for about 30 minutes. In my case, as I wanted a white pizza base I only added oil.
Baking a Gluten Free Pizza
Preheat the oven at 230 Celsius degrees to bake our gluten free pizza . You want to use the static program, so avoid ventilation.
Then, once the oven is at the right temperature, put the dough in it and let it bake. It should take about 18/20 minutes to be ready. A bit more if you used some toppings.
In my case, I decided to use raw ingredients. So I started with a white base and my dough was only baked with oil on top. Then I added tomatoes and rosemary. Here is the end result: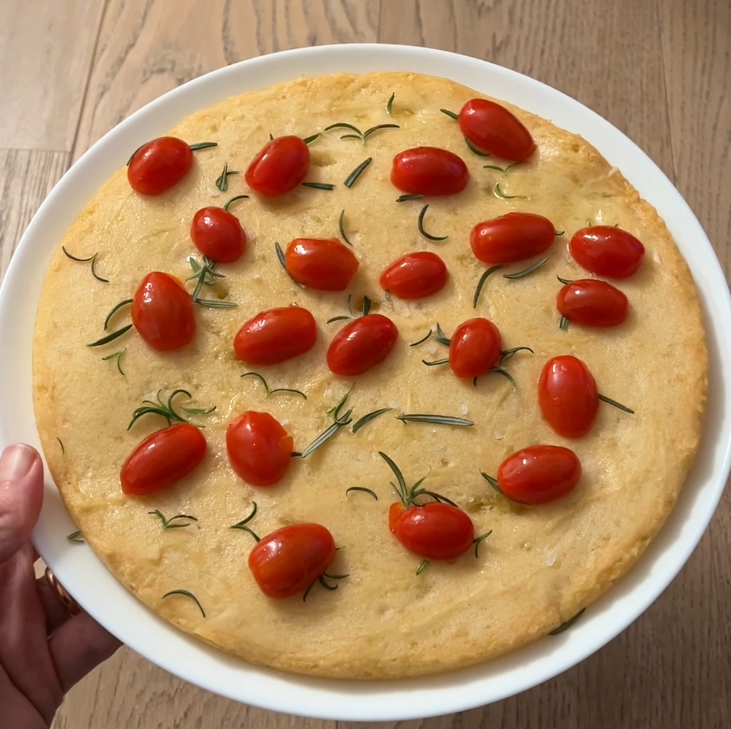 Let me know if you try this pizza and how much you like it 🙂