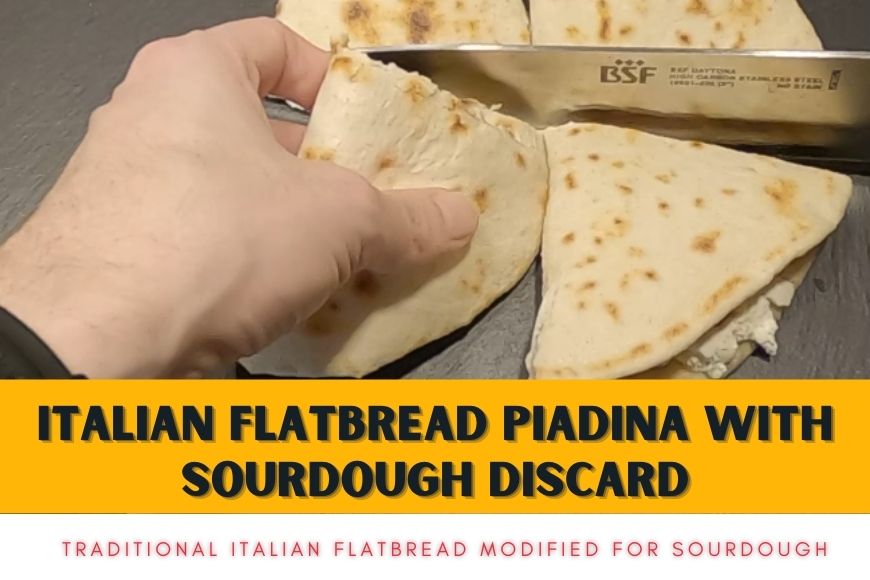 Easy Italian Flatbread Piadina with Sourdough Discard
Last Updated on February 26, 2022 by Stefano
If you don't like to waste food ingredients like me and you like tasty bread then I have a recipe to share. This is a traditional italian flatbread recipe to use the stiff sourdough discard. Welcome to my easy Italian flatbread piadina with sourdough discard recipe!
The key point of this bread is that you can prepare it the day for the evening. So it's a perfect healthy bread if you have not too much time. Moreover you can leverage your stiff sourdough discard. Even though this born as no yeast bread.
So let me share immediately this easy Italian flatbread piadina with sourdough discard recipe, starting as always from the summary of this blog post:
Are you ready to taste my version of piadina romagnola? Let's go!
What is Piadina Italian Flatbread
Let's start with a bit of Italian food culture. It's always interesting to dig to the roots.
Piadina is a traditional flatbread of an Italian region: Emilia-Romagna. Specifically it is from the Romagna part of the region. It's an ancient flatbread, an humble one. Easy to create, made with poor ingredients that everybody could do it. Giovanni Pascoli, a famous Italian poet, studied the origins of this traditional italian food. It seems he even created the name of Piadina starting from the local dialect. In fact sometimes piadina is also called "piada", which is the Pascoli's name of this bread. I should say that this bread is called piada not just sometimes, it is how locals are referring to Piadina 🙂
So if you'll ever visit Romagna in Italy make sure to ask for a Piada instead of Piadina.
A couple of important aspects of this italian bread are related to ingredients. The original piadina recipe from Romagna requires the usage of lard. Moreover it is forbidden to use yeast. If you want to have a kind of rising effect you can use a bit of soda instead.
Nowadays Piadina is an excellent street food. I personally love it. That's also why I prepare it very often and I want to share the recipe I use.
Ingredients for Piadina recipe
Let me first clarify. This is my own version of Piadina. It's definitely not the one that comes from Romagna traditions. However I still call it Piadina because it is only slightly different than the original one.
That said, the most important variation is the usage of my stiff sourdough discard. So, the biggest (and only) change is there. The piadina recipe that follows is to prepare 8 piadinas of about 95 grams each. I prepare them with a thickness of about a couple of millimeters. That translates in a piadina of about 22 cm of diameter.
| Ingredient | Quantity |
| --- | --- |
| Flour | 440 gr. |
| Sourdough Discard | 85 gr. |
| Water | 230 gr. |
| Salt | 9 gr. |
| Lard | 1 spoon |
| TOTAL | ~765 gr. |
The interesting part of this recipe is that is very flexible when it comes to select the flour to use. In fact you can use almost every flour type. Also you can use a lot of flour W values.
I personally use a mix of flours. 80% of Flour type 0 (all purpose flour) and a 20% of Type 1 flour. In this way the flatbread becomes very tasty. On one side you have the taste from sourdough discard and on the other end the taste of a less refined flour like the type 1.
If you do not want to mix different fours and you want to prepare this recipe within the same day, just in few hours, it is better to use a not so strong flour. I suggest no more than a 240W, or 11 grams of proteins in case of an all purpose flour.
Do you want to keep doping the original italian pizza with no efforts? Subscribe to my newsletter!
It's free, you will get access to the recipe notebook I created for you and and you will never lose my tips & tricks around the world of Italian pizza. I hate spam too, so no worries, subscribe with confidence:

How to make Italian Piadina Flatbread
The process to make piadina flatbread is super easy. you only need a few very easy steps. Also you can knead by hand or using a stand mixer, does not really makes to much of a difference.
Following are the steps with few notes and pictures:
Kneading ingredients
First maturation
Making dough balls
Cooking
Kneading ingredients
First of all, in case you are kneading by hand make sure you have a comfortable bowl. I prefer a steel one, but glass is also an option.
The kneading process always starts with water and sourdough discard. Put all the water from recipe in the bowl, add the sourdough discard in very small pieces and start to melt the sourdough. You don't need to melt it completely. What we want to achieve is to ease the kneading process. Specifically we want to make sure the sourdough gets absorbed by the other flour.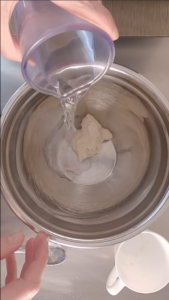 As second step you add the remaining ingredients and start kneading. We don't need to knead too long. The goal here is to have a compact dough, but not yet smooth. I personally spend just a few minutes kneading by hand. Not more than 6/7 minutes generally.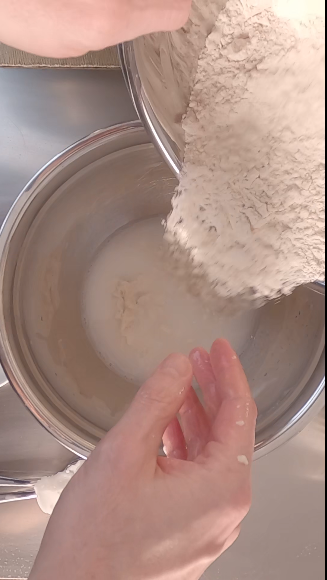 First maturation
Once you have a compact flatbread dough ball you can keep it in the same bowl you used for kneading. Just make sure to cover the bowl so that the dough does not dry.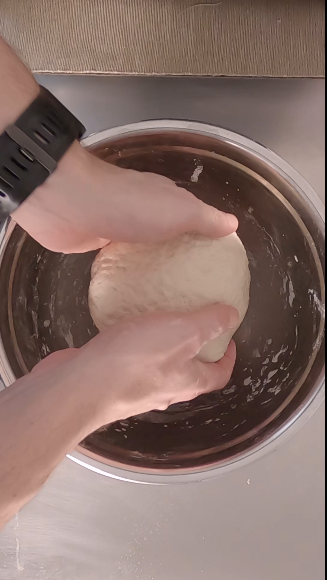 Then have the piadina flatbread dough having a maturation for at least a couple of hours. Much better if you can have it resting for more hours.
Let me add that if you are using a stronger flour (with more than 11gr of proteins) it is better to increase the fermentation process to five or six hours, if not more. It is still ok to keep the dough at room temperature. But if it is summer I recommend to move the dough for 1 hour or two in the less cold part of the fridge.
Making dough balls
The third step of my Easy Italian Flatbread Piadina with Sourdough Discard is to prepare the smaller dough balls that will later become our beloved piadina.
With the amount of piadina dough I provided in the list above you will be able to prepare 8 piadina of about 95 grams each. So, take a kitchen scale and start making dough balls.
I recommend to store them in a closed recipient. Also leave a bit of space between each ball. You want to make sure they are not touching each others. After that let the piadina flatbread dough balls have one more our to rest.
Do you want to keep doing the original italian pizza with no efforts? Subscribe to my newsletter!

Cooking
Last step is to cook our lovely piadina flatbread. Well, before doing that we need to shape the dough balls into discs. I personally use a Kenwood pasta roller accessory. But of course you can use a classic rolling pin. Make sure to have a few mm of thickness. I prefer to have them about 2/3mm thick.
The process starts with flattening the dough ball into a quite thick disc. After that you can use the roller accessory I have or the rolling pin.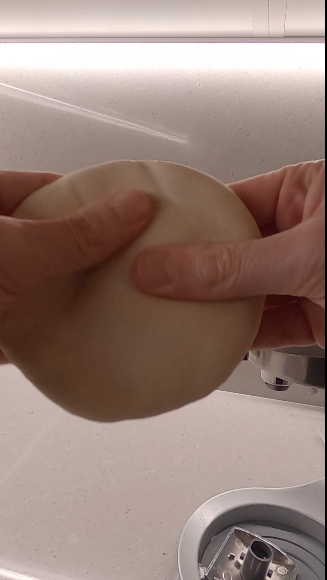 It's important that you use at least a rolling pin to make this flatbread. Indeed you want to keep the same level of thickness across the entire dough disc. Otherwise we risk to have a not homogeneous cooking.
Last but not least, take a pan (I use a 24cm pan) make it hot and begin to cook your piadina from one side first and then on the other, of course.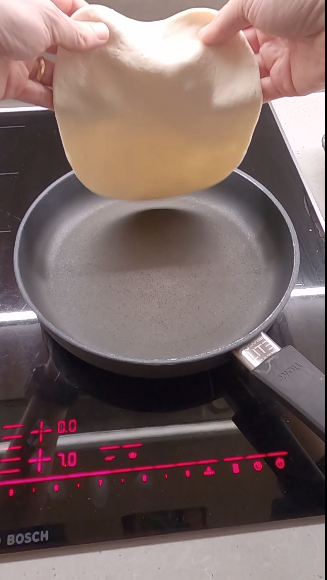 Piadina Stuffing Ideas
If we were in Italy we could select a lot of ingredients. One my favorite is a typical cheese used to fill Piadina in Romagna, Italy. Unfortuntely I cannot find it anywhere else than in Italy. Only sometimes I find it in italian shops abroad, but not always. I am talking about Squacquerone! If you find it, create a first layer of it and then turn on your fantasy and add Prosciutto Crudo and arugula or tomatoes.
Considering options in case you are not in Italy I tried to find a substitute of Squacquerone. In Czech Republic I use "Lucina" cheese. Otherwise Philadelphia cheese is also an option. More in general, if you find a spreadable cheese that will be a perfect base!
Lately my favorite Piadina stuffing option is the following:
Lucina cheese (or Philadelphia)
Cherry tomatoes
Extra virgin Olive oil
Arugula
In the pictures below I did not use arugula but I strongly recommend it!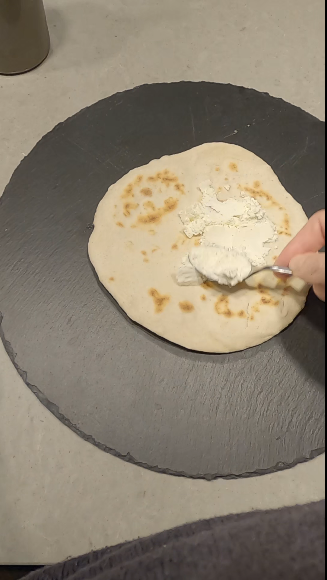 Schedule for Preparing Piadina
To conclude this article about this easy Italian flatbread piadina with sourdough discard, I would like to share a possible schedule to prepare the recipe. It considers a total of about 6 hours from the beginning till the end:
| Phase | Preparation effort | Time |
| --- | --- | --- |
| Kneading | about 10 minutes (included ingredients weigh) | 1:00 PM |
| First fermentation | None | from 1:10 PM to 6 PM |
| Dough balls prepararation | 10 minutes | from 6 PM to 6:10 PM |
| Piadina Dough Balls resting | None | from 6:10 PM to 7:10 PM |
| Cooking Piadina | 2 minutes each piadina | 7:10 PM - till dinner |
| TOTAL | 30 minutes | ~ 6 hours |
But no worries, this is just an indication, You can easily adapt the schedule to your needs.
For example, you can prepare the piadina dough the morning before going to work, move it to the fridge and then prepare the dough balls when you finish working in the afternoon. You can definitely manipulate this dough when it's cold, just out of the fridge.
Also, you can reduce the time between the first fermentation and the dough balls making to just 2 or 3 hours. However I don't recommend to reduce more than that the time of this phase. On the contrary, never reduce the almost 1 hour I indicate to have the dough balls resting. If you do so it will be almost impossible to stretch the balls into a piadina without destroying the dough, even risking to have holes in it.
Enjoy your piadina and feel free to contact me or leave a comment for any reason!
Don't miss the next article, keep learning the original italian pizza with no efforts! Subscribe to my newsletter!