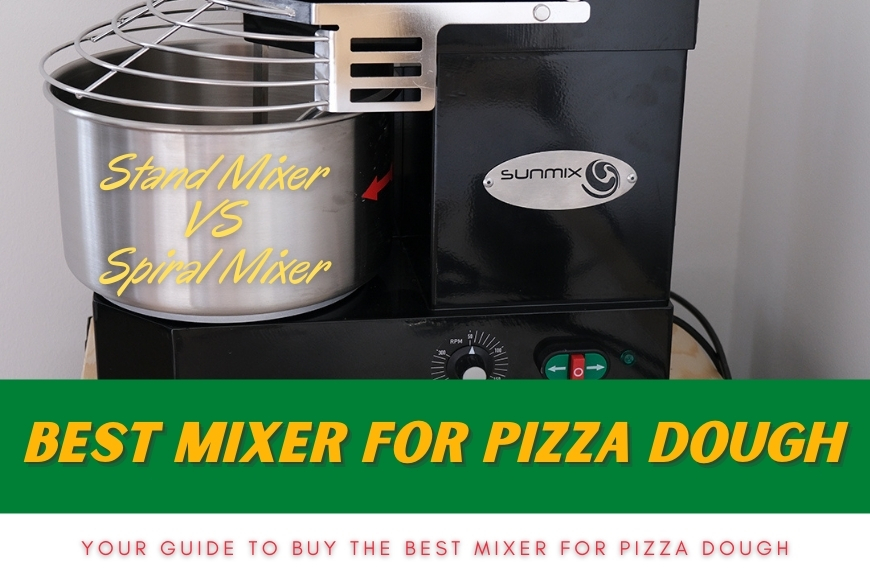 How to Buy Mixer for Pizza Dough
Last Updated on November 30, 2023 by Stefano
UPDATE: if you are searching for the best Pizza stand mixer to buy, have a look at my new article "Top 5 stand mixer for pizza in 2023"
Having the right mixer for pizza dough can really help you stepping up in making pizza. However selecting the right one is not always easy. In this How To Buy a Mixer for Pizza Dough article I am going to explain everything you need to consider before you buy and how to get the most out of the spent money.
The reality is in fact that the market offers a huge number of options. From a cheap stand mixer to a very expensive spiral mixer there is an incredible difference. But still you don't always need to invest a huge amount of money to make a better pizza. Instead you want to focus on some key decision points that I am providing you to help you picking the best mixer for pizza dough.
This is the list of topics we are going to talk about:
A little disclaimer though. I am not sponsored by any of the brands that I am going to mention. Everything I am sharing is based on my experience and knowledge that I am making at your disposal.
What is the best mixer for dough and baking?
The world of mixers for home use has been great lately. The market offers a decent variety of mixers, often directly derived from professional use. From this point of view we should consider ourselves very lucky.
When we come to the world of Pizza making we should look specifically at two types of mixers: Stand Mixer and Spiral Mixer. Any other option, like hand mixers, is just to be kept out of this game. Even though you will find Youtubers or articles explaining how to use (and burn) them. Just forget about them.
Stand mixers are popular not only for Pizza. Very famous brands like KitchenAid or Kenwood have several models in their catalog. All of them are very flexible kitchen equipment. Obviously some models are better than others.
Spiral Mixers are much more specialized and I would say less flexible. They were born exclusively to be used by professionals but as of today various brands extended their catalog to include some models that are suitable for home usage.
Considering all that, we will focus only on guidance on how to buy a Stand Mixer or a Spiral Mixer. The intent is to help you choosing not only base on the models available on the market but also according to your needs taking into account some variables that are key for your satisfaction. For example we will talk about stand mixers accessories that you want to make pizza as well as Spiral Mixers features.
To make the buying process simpler I also collect offers of selected mixers (and not only) in my shop page.
What mixer is best for pizza dough?
So let's start answering the question of what mixer is best for pizza dough. The simple answer is that for pizza dough you should prefer a spiral mixer. This is definitely the best option for a number of reasons:
better management of temperatures
easy creation of any dough structure you need/want
possibility to work easier with higher hydration
easy management of higher amount of pizza Dough
However no worries, having a spiral mixer this is not mandatory, only preferred option. You can make a perfect pizza dough also with a Stand Mixer. Everything depends on the type of Pizza you want to make and how you compensate the weaknesses of a Stand Mixer.
Going more in details to answer to the questions "what is best between Stand Mixer and Spiral Mixer" we need to realize that for home use we need to find some compromise. A Spiral Mixer is essentially a dedicated kitchen appliance for pizza, bread and maybe some complex pastry like Panettone. On the other end a stand mixer is much more versatile at home. In fact you can use a stand mixer for pizza dough as well as for any kind of pastry, bread, to prepare creams and you name the rest.
Also if you are used to maintain a Stiff Sourdough you can take advantages of having both a Stand Mixer or a Spiral Mixer. In some cases the first is better, especially if you work with low amount of Stiff Sourdough. Nevertheless A Stand Mixer to feed a Stiff Sourdough requires some minimum specifications. We will shortly touch this point later.
At the same time keep in mind that even the smaller Spiral Mixer requires you to work with a minimum amount of ingredients. Forget about making a Pizza Dough with less than 400/500 gr of flour. And only with the best mixers on the market. Often you need to work with at least 800/1000 gr of Flour!
In conclusion: if you need versatility you will probably better buy a Stand Mixer. If you only care about pizza making then you should consider to get a Spiral Mixer.
The Budget to Buy a Mixer for Pizza Dough
This is another topic that can make a huge difference in deciding what to buy. Prices of Spiral Mixers skyrocketed during the last years. I observed an increase in price of about 30% as average. In some occasions even more than that. Therefore, if you have small budget you have no option rather than finding the best stand mixer for the price you intend to spend. Forget about spiral mixer.
Talking specifically about price I will keep in consideration only spiral mixers that are meant to be used at home or in small laboratories. Essentially we are talking about Spiral Mixer capacity of 5, 6 or 8 Kg. I would never go for a bigger mixer especially because the minimum amount of flour you can work with will be pretty high. Moreover I strongly recommend against looking at spiral mixers with detachable bowls. Believe me, there is no reason to have it. Removing the dough from the bowl is easy enough. Let alone cleaning is also a 5 minutes operation.
So, are you curious to know how much does a Spiral Mixer costs? The entry price for a good quality spiral mixer is between 800 and 1000 €/$. The tendency is more toward 1000 €/$. In case the mixer comes with some optional or additional features (more about this later) then prepare to spend even 200/300 €/$ more. As you can see we are not talking about a cheap kitchen equipment.
When it comes to the price of Stand Mixer the situation is different. These are much cheaper than spiral mixers and you can get some nice deals for example during the Black Friday. Anyway here is were the things become a bit more complicated. You can be attracted by very low prices and buy a Stand Mixer that does not fit your needs. Also in this field is better to save a bit more money and increase your budget to buy a better machine.
For stand mixers we will have to look at technical specifications like the power of the motor, the accessories, the brands and more. My recommendation is to reserve a budget that starts from 300 €/$.
Essential accessories for the Stand Mixer
To buy the best mixer for Pizza Dough you need to start looking at essential accessories and technical specifications. Let's start from the latter.
Stand Mixer Specifications
Stand Mixer specifications you want to consider are at least the following:
Bowl Capacity
Motor Power
Materials
For the Bowl, if you can, go for a big one. Ideally 6/7 liters. This will help you with the preparation of slightly bigger amount of dough and is generally also associated to a stronger motor.
When it comes to motor power we need to make a distinction. First of all, the power of the motor is important in relation to ability to work with both low and high hydrated dough. Let alone the possibility to work with more flour. Generally if you go with higher Watt consumption you get improvements on the entire structure of the machine. Moreover it will be easier to work at high speed for high hydration dough as well as at low speed with less hydrated dough. So I would not go for a Stand Mixer with less than 1000W of power. Remember: the more the better.
Only exception to the above rule is with KitchenAid Stand Mixers. They have a different way to transfer the power to the hook and they work in excellent way with lower power. I will recommend some models later one.
Last but not least: try to avoid unknown brands. If you don;t do that most probably you are going to buy stand mixers with cheap materials. Of course look at steel bowls as a preference. Plastic bowls do not last for long and general quality is not that high. Moreover, if you have the budget, prefer stand mixers with steel body.
Stand Mixer essential Accessories for Pizza Dough
The most important accessories you want to consider are hooks. They are key to create the gluten mesh appropriately. Therefore we are here concentrating only on hooks that are important for the Pizza Dough and maybe for bread. Anything else that comes in the box is of course welcome but mostly for other usage.
So you want two or three hooks:
Spiral hook
Flat Beater (or K-beater)
Dough Hook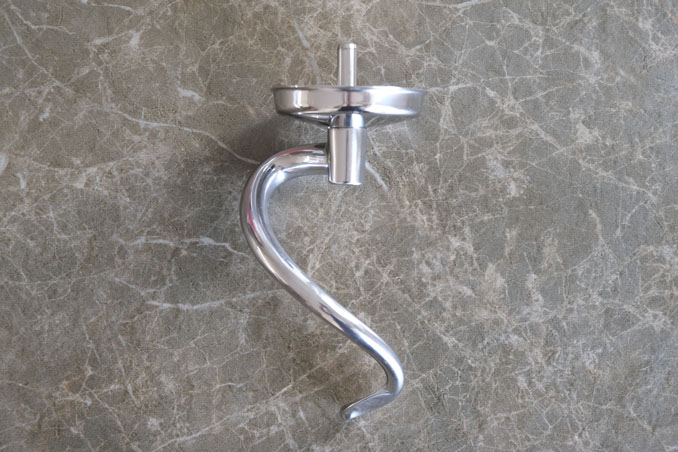 The Spiral Hook tries to simulate a professional Spiral Mixer. Of course, is not exactly the same but if properly used it helps a lot especially for Neapolitan Style Pizza Dough. For long time the spiral was my go-to hook when preparing dough with hydration up to 68/70%. During last months, though, I am rarely using it. For the Neapolitan pizza dough I am following a kneading method that uses the flat beater and the dough hook.
The Flat Beater, or K-beater in the Kenwood family, is everything you need for high hydration dough. It's a must-have if you plan to do a recipe like my high hydration Pizza in Pan. I also like to use it when working with low amount of ingredients. Spiral and Dough Hooks are in fact sometimes struggling in getting all ingredients together, especially in bigger bowl.
Last but not least the standard Dough Hook. This is a default accessory provided with any stand mixer. Besides the usage of it in pizza making, I use it also when I am feeding my sourdough. It's definitely my favorite for such use.
Essential Features of a Spiral Mixer
When it comes to buy a Spiral Mixer the game is incredibly less complex than with Stand Mixers. You don't have to deal with accessories at all. On the contrary you need to look at features and specifications.
Let me immediately tell you that some brands make the difference here. They have proven to be reliable and to build great products for home use. I will mention them in a next chapter. However now we will explore what are features and capabilities. They will help you in selecting the model and brand in a much easier way.
Once again let's explore the list of most important features:
Bowl Capacity
Spiral Speed
Reverse
Minimum amount of Flour
Spiral Dough Mixer bowl capacity that you want to chose is pretty straight forward. As of today the smallest capacity you can get is 5 kg. Now please note that for Spiral Mixer we talk about Kg capacity, while for Stand Mixer we measure the bowl capacity in Liter. It makes a big difference. With a 5 Liter bowl you can do probably 1 Kg of Pizza dough. With an entry level Spiral Mixer you can do 5 Kg of Pizza dough!! So, this time you should not look at maximum capacity of the bowl but at its minimum. Anyway, standard small Spiral Mixers are between 5 and 6 Kg of capacity. In Some cases you can go up to 8 or 10 Kg. But remember that the weight of the mixer itself starts to be very high with such capacity. So it will be difficult to move it around.
The second feature of Spiral Mixer is the spiral speed. In the past you could buy either single speed or double speed. Modern mixers give the option to add a potentiometer that permits to adjust the RPM of the spiral! Well, you obviously want that! Generally a standard small Spiral mixer provides up to 200 RPM. In some models you can buy the "high hydration" version that can rotate the spiral up to 300 RPM and more. I recommend to go for such option to buy a more flexible mixer.
Another optional that often is offered with Spiral mixers is the reverse gear. It means that you can have the bowl and spiral reversing their normal direction. This feature should be used mainly (if not exclusively) for Biga Starter. For such starters indeed you do not want to mix ingredients. Therefore, having the spiral and bowl spinning in reverse, will help. In my opinion you don't really need this option. For small amounts of Biga is far better (and fast) to go by hand.
Another important specification to consider in a spiral mixer is the minimum amount of flour you need to knead. This is often underestimated information. But when you buy such kitchen equipment for home then you want to consider it. The rule of thumb is that the bigger the mixer is, the more is the minimum amount of flour it can knead. For a 5 Kg mixer it's hard to work with less than 400/500 gr of flour. And we are talking about the bare minimum. Of course if you buy a 8 Kg Spiral Mixer then you can expect to work at least with 1 Kg of flour for a proper kneading. This is important in case you have a small family or pizza laboratory and you prepare Pizza just for a few dough balls.
The Best Stand Mixers for Pizza Dough
I am pretty sure you are curious to know some Stand Mixer brands and models to help you making your Pizza Dough. so let's dig into it.
Of course I did not test all the Stand Mixers I am going to talk about. Anyway, as I want you to buy the best mixer for Pizza Dough that fits your needs, I made some research for you. I leveraged discussions on Italian Forums and groups. The passion for Pizza in Italy grew a lot in the last years and a lot of discussions happened about kitchen essentials to make Pizza at home.
I will provide all my recommendations from the cheapest stand mixer for Pizza Dough to the most expensive. All options have proven to be valid by users of various Pizza Forums that I trust. However I am not sure about the availability of all of them across the world. In Europe there should not be an issue. But anywhere else my recommendation is to get in touch directly with the vendor.
Cheap and very effective to buy Stand Mixer for Pizza Dough (below 300 €/$/£)
The list of brands/model is the following:
Let's start with an Italian brand that is very famous for entry level ovens for Neapolitan Style Pizza: G3 Ferrari. They produce a couple of very effective stand mixers that are very good in the ratio between price and effectiveness.
The model that you want to look at is the Pastaio. They produce them in different variants and I suggest to search for the model 10&Lode that comes with a similar-spiral hook.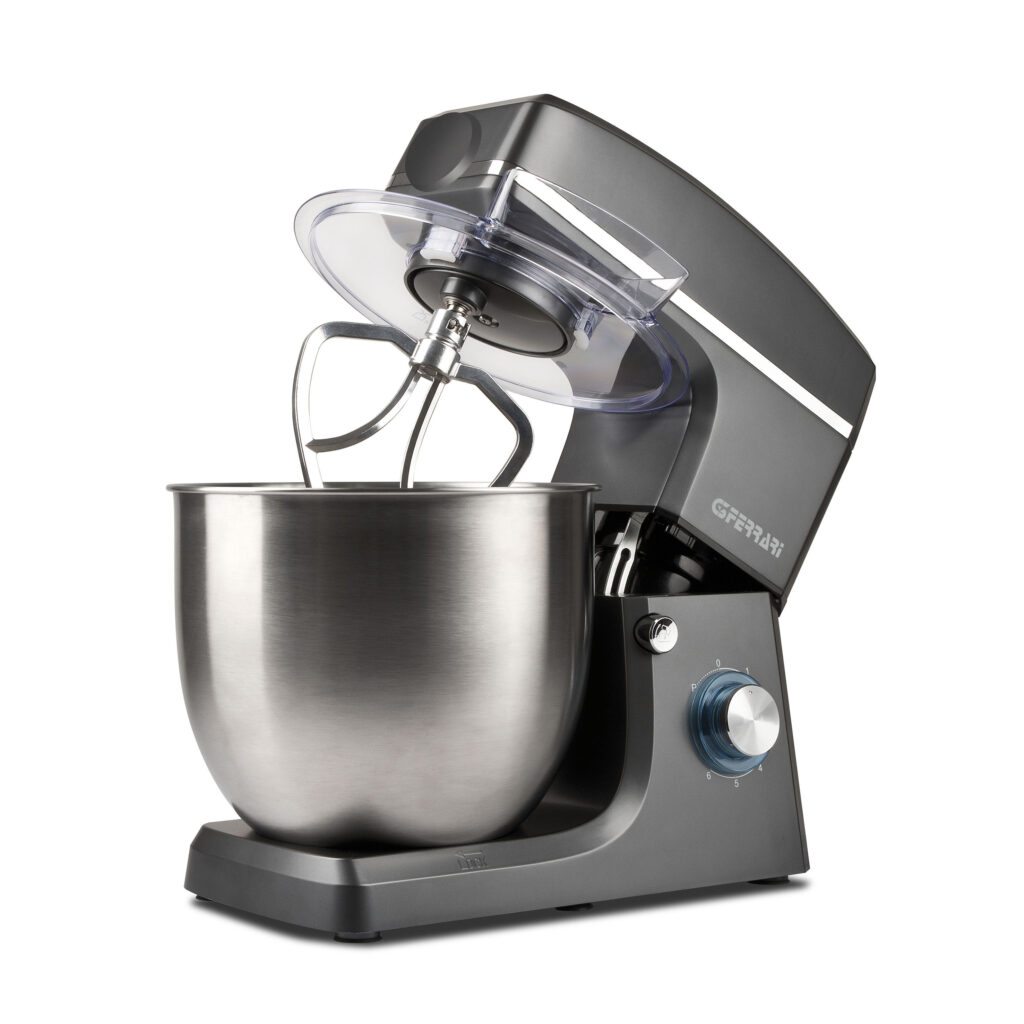 At the time of writing you can buy for less than 200 Euro!!
Another Stand mixer for Pizza Dough that I suggest you to consider in this price range is the Bosch MUM5 family. The top model has not a big capacity bowl (3.9L) but is considered to be also a very effective stand mixer. The specific model you want to search as I am writing is MUM58XXX/MUM59XXX. It also comes with several accessories but you want to probably add a Spiral Hook as a separate accessory.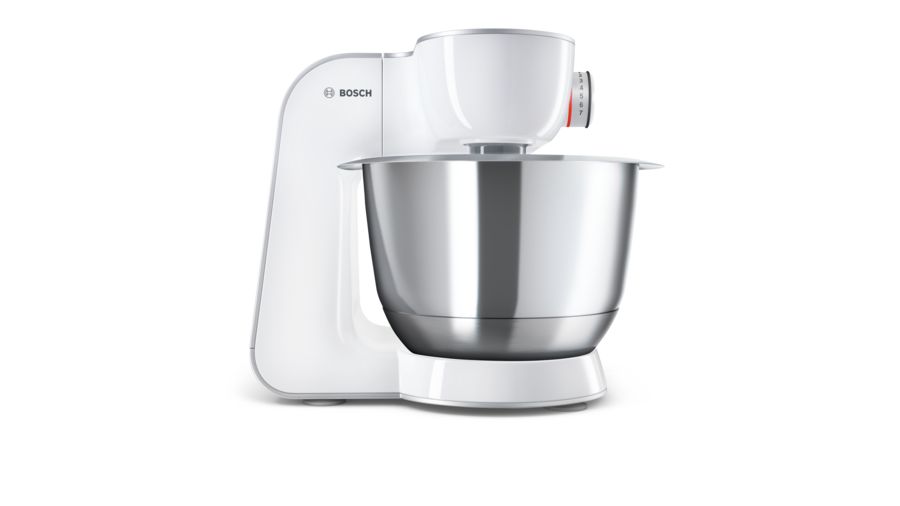 If you can't find in your country the G3Ferrari you can look at some Kenwood models like KVC3100S (for small dough) or KVL4100S which is essentially the same mixer but bit bigger. In this case you need a budget that is just a bit under 300 €/$/£ if you find some deals. For the KVL4100S you can easily spend more than 300 bucks.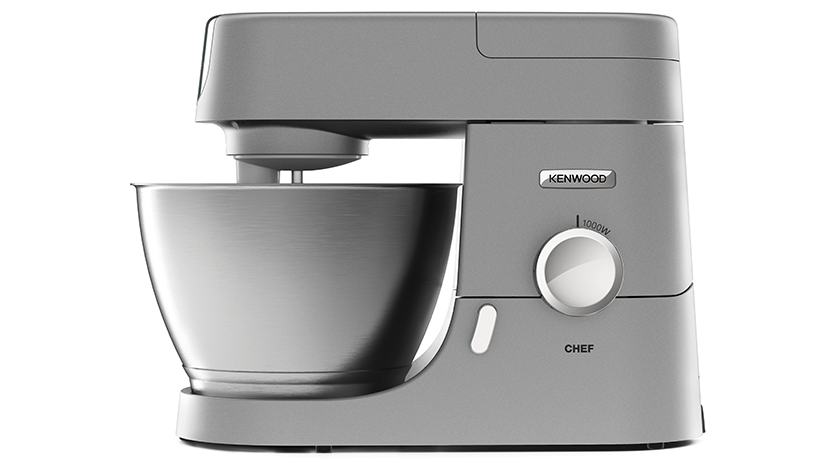 I would stay away from the Kenwood Kmix models. They do not have a good reputation as it comes to durability and real capacity to prepare decent Pizza dough.
Mid-level Price Stand Mixer: high and professional quality (300-500 €/$/£)
In this price range you can get already a very good Stand Mixer. You start getting some more accessories bundled and you can generally buy one with a bigger bowl.
I am considering the following brands and families:
In the Bosch MUM5 family there is a stand mixer model that is worth to mention: MUM5X. This is the top model of the MUM5 family (in Europe at least). Although it comes with a quite small bowl it is still a very effective device and it integrates a kitchen scale that can come handy. There is not so much to say besides that it's a reliable mixer, exactly as it is the less expensive model. However in my opinion I would not spend extra money for this model if you are mainly going to use it for Pizza Dough.
In the Kenwood family, within the price range selected, we can get some very robust mixers and also pretty big bowls. I selected a few model, even though you should only consider them as a reference. In fact the same models have different names in various countries. Actually the Kenwood line can get very confusing.
The models I selected are Chef Elite KVL6300S, System Pro KVL8320S and KVC7320S. They are all very close to each others and their prices are normally higher than 500 €/$/£. However you can find them on Amazon or other online shops with dicounted price pretty often.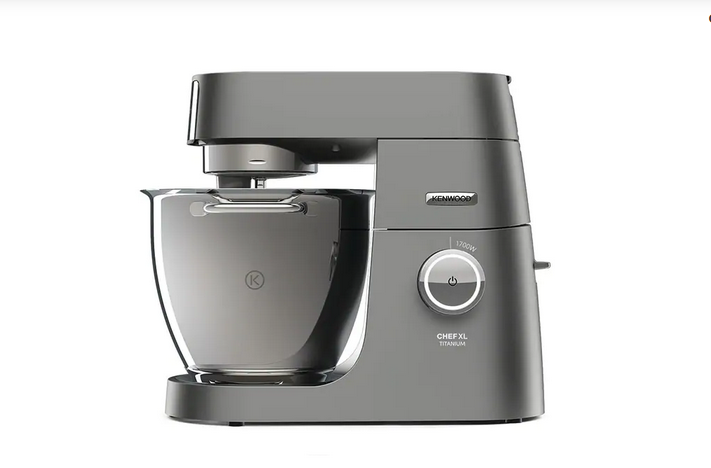 Last but not least, if you want to go for a more professional like Stand Mixer for your Pizza Dough, you can look at the one from Maxima. The entry level model, MPM7, is close to the higher budget in the category I created. However they are strong and on Italian Forums for Pizza they are very appreciated: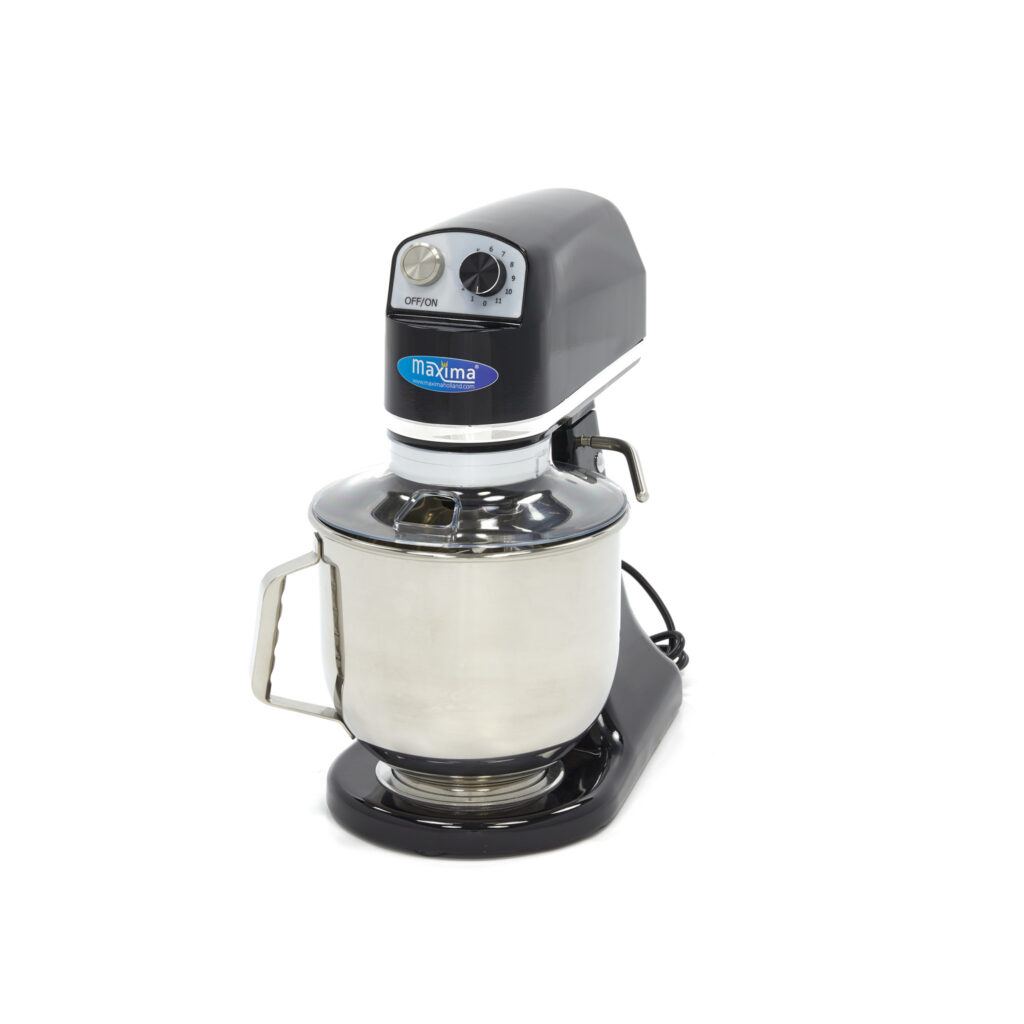 Top-class Stand mixer (more than 500 €/$/£)
We close this guide to buy the best Stand Mixer for Pizza Dough with the most expensive options. Honestly speaking, if you are planning to use the mixer for bread and Pizza only, save a bit more money and go for a Spiral Mixer, you will be much more satisfied.
The brands and models to keep in consideration are:
Let me start with the very famous KicthenAid Artisan stand mixer appliances. There is not too much to say about them. Super solid appliances, easy to repair, plenty of accessories and adds-on. KitchenAid Stand mixer are perfect for Pizza Dough. However they are pretty expensive. Sometimes even hard to justify the price. All the models are excellent but I recommend you to look at the ones with middle and big size bowl. Therefore KitchenAid with 4.8L and 6.9L capacity are the ones to select.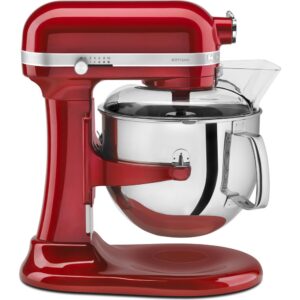 The next Pizza Dough Mixer is again from the big brand Kenwood. This time I selected one of the most expensive and powerful models: Titanium Chef Patissier XL. I did not specify a model because whatever you select in this line you will get the best from the Kenwood Stand Mixers family. Yet again remember that such stand mixers are not specialized for Pizza Dough or Bread. Therefore if you want one of them is because you most probably prepare at home also some pastry or maybe home made pasta or anything else. I would never go for such an expensive object only to make Pizza.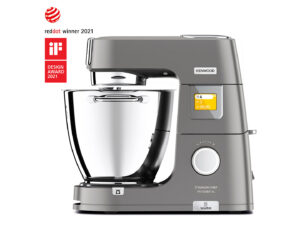 The last Stand Mixer I want to mention to buy as best mixer for pizza dough is again from Maxima. It is the same model seen before but with bigger capacity: MPM10. Nothing to say besides what I said before for the little sister MPM7. Whichever you chose between them you are going to have a professional equipment in your kitchen.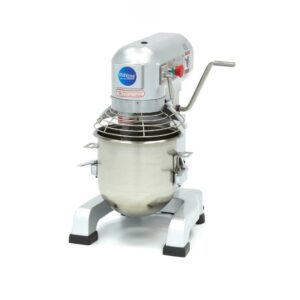 The Best Spiral Mixers for Pizza Dough
Spiral Mixers are definitively the mixers to go for Pizza Dough. There is nothing better to prepare your dough than using one of them. If you are in that phase where you need to buy the Best Mixer for Pizza Dough and only for Pizza and Bread dough have no doubts: Spiral Mixer.
Differently from the introduction to options for stand mixers, I am not going to distinguish them based on costs. About the budget, just kep in mind that you will need to plan to spend around 1000 €/$/£ if you want to stay with the best options. Some of the Spiral Mixers I will introduce you are a little bit less expensive but they are not very good when it comes to temperatures. Let me explain.
The big difference between Spiral Mixers is in how much they heat your dough. Some of them transfer a low amount of heating and some others are not very effective. And this is pretty important aspect to keep in mind, especially if you are new to this way of mixing. The risk is that you cannot work with right temperatures of the dough and alter the final result of your product.
That said let me share what are the most wanted Spiral Mixer brands and models for home/small lab users:
How to determine what Spiral Mixer to buy: heat transfer
In the previous section you have the list of all the Spiral Mixers that I think are best for pizza dough. Reviewing all of them is not something that makes sense in this article.
Instead I want to provide some key points to consider. The first point is about the amount of heat these mixers transfer to your dough. In this context Sunmix and Eliani are absolutely first in class. I personally own a Sunmix Sun6 and they are great.
Also speaking about heat transfer, IpBake and Peb Machinery are also known to be absolutely fantastic products.
Puglisi Spiral Mixer are growing in their reputation. They recently renewed their entire line with brand new mixers plenty of features. According to several reviews online it seems that they released once again a pretty good mixer and at an affordable price! You can in fact buy a 5Kg Mixer from Puglisi for less than 1000 €/$/£!
Last in the list is the Grilletta from Famag. In this case we are talking about the less expensive Spiral Mixer probably on the entire market. Unfortunately the money saved to buy this mixer is bringing the other side of the coin: this is the mixer that – according to the majority of the owners – heats the dough the most. If you don't take appropriate measures it can be a disaster!
The minimum amount of Flour you can mix
This is probably one of the most underestimated aspects of a Spiral Mixer. We tend to consider what is the maximum amount of dough we can create with a mixer, but what about the minimum amount? I think this is a very relevant topic for home users.
The rule of thumb here is that the bigger the bowl, the bigger the dough needs to be. Therefore, if you buy a 8Kg mixer, you cannot pretend to have it working properly with only 500gr of Flour. Yes, because to understand what is the minimum amount of dough you can properly work with, you need to consider the amount of flour you are going to use.
My experience with a Sunmix Sun6 – with a total capacity of 6Kg dough – is that you can work with as less as 400 gr of flour! Which is pretty impressive. However I can tell that is not ideal. You will get the best out of the mixer when you work with at least 500/600gr of flour. As the Eliani ES6 is essentially the same mixer, I expect you can do the same.
For the others remember to apply the rule linked to how big the bowl is: the bigger the bowl, the more amount of flour you need for the mixer to work at its best.
And with this we conclude this long article. I hope you enjoyed it. If you still have questions you can as always contact me or leave a comment below.