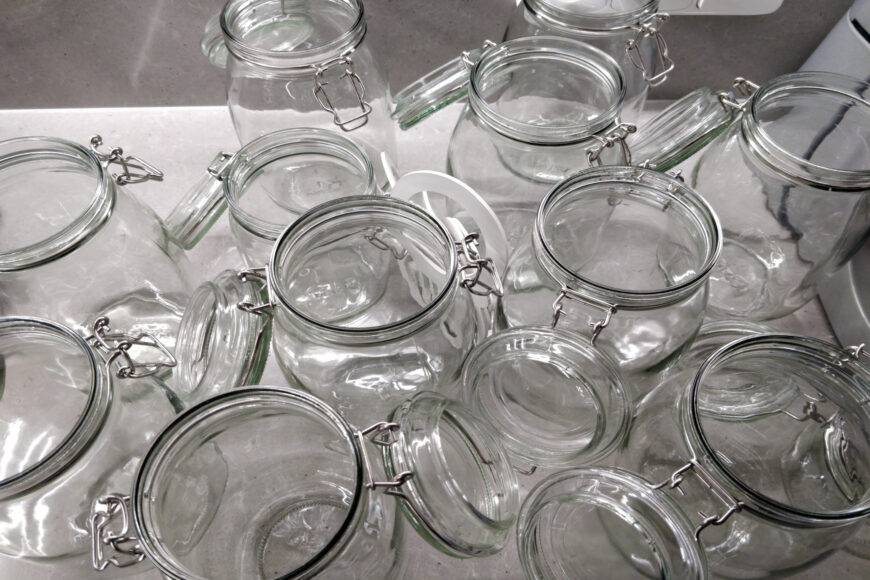 How to properly store flour and avoid bugs (for all seasons)
Last Updated on December 7, 2022 by Stefano
If you are using flour for your recipes and food then I am confident you experienced this already. You open the pantry where you store the flour and discover you have bugs in flour packages. This is so bad. I know exactly the feeling. It happened to me a few times. Therefore I want to share with you how to properly store flour and avoid bugs.
On Internet you find several recommendations from very basic suggestions to fancy ones. However here I will give you all tips that will dramatically reduce the chances to find infestation of flour beetles in your pantry.
Actually there is not just one reason why you find flour bugs. So I thought that it would be good to follow some good practices starting from the moment you bring the flour at home. So let's not spend too many more words and let's learn how to properly store flour and avoid bugs.
Buy small quantities of flour
It looks to be an obvious information. However I understand that this is not always the case. The best approach to store the flour is to not have too much of it, especially if you do not have ideal conditions to store it.
There is the tendency in last years to use professional flours at home too. The problem can be that such flours are only sold in huge packages. I have seen very often people and friends buying packages of 25 Kg of some amazing flour but only sold in such quantity. Obviously if you are not making pizza every day it will take months to use all of it and this is not ideal.
It is better to buy small quantities. In my experience is best to buy flour that you will use in maximum 3 or 4 months. If you cannot really find this possible at least try to find friends and divide flour with them.
Also think that having smaller quantities will give you more opportunities to test different flours. This makes easier to find what is the best for you!
What is ideal environment to store the flour?
Honestly this is the most important aspect to properly store flour and avoid bugs. Indeed it is well known that flours don't like extreme environments. They prefer to stay at not so high and so low temperatures (the latter with some exceptions). At the same time we need to keep humidity under control. Let alone to make sure you control airflow as well.
If we want to summarize details in a list we can say the that you want to store flour in a place that has the following conditions:
temperature: no more than 22 °C (or ~72 °F)
humidity: not higher than 68%
airflow: minimal airflow to get clean air
light: dark place
detached from walls (specifically if stored in basement/cellar)
not in contact with floor (specifically if stored in basement/cellar)
avoid places with big fluctuations of temperature over the time
You can easily understand that if you store flour at home there is probably one place to avoid: kitchen! Unless you have a quite big kitchen with good airflow. Otherwise is well known that in kitchen temperatures are generally high. Same goes for humidity.
If you have a cellar that is the best place to keep in consideration to properly store flour.
Is there a container that is best to properly store flour and avoid bugs?
To best answer this question we can take it from different perspectives.
If you are buying packages of 1 Kg you are going to have them most probably paper ones. I also expect you will consume the flour pretty fast. If that is the case you can keep your flour there. Just make sure that the pantry where you have it will not have too high temperatures and humidity.
If you are going to have bigger packages, like 5 Kg, it would make sense to store differently. Indeed while the package is closed the flour is somehow protected from the external environment. But once you open it you expose the flour much more. So best is to move flour in smaller containers. I prefer to use glass jars with hermetic seal. If you are lucky enough to have a cellar or basement keep the jars there and move them in the kitchen one at a time.
If you want to be on the safe side you can always move flour in such hermetic seal jars or containers, no matter how big is the original package. The reason for that is to isolate the flour from contamination of bugs of other food you have in the same pantry for example.
Does it make sense to store flour in fridge?
Yes and no 🙂 Actually I should say that you want to avoid to store flour in fridge. I know in the past I was writing something different. But then I kept studying about how to store flour and I found out something different.
Flour is a living entity. It changes over the time. Having it in a cold environment is NOT ideal. You are altering the biology of the flour. So, try to avoid to store the fridge in the flour at any cost, if you can.
I would say that if you are living in a place where temperatures are very high and you really need to store for long time then the fridge is an option. In this case my previous recommendation is still valid. You want to be careful with it. Indeed flour contains a pretty good amount of moisture, in normal conditions between 14.5% to 15.5%. The risk of using the fridge -besides what I said before – is that the moisture inside the flour will facilitate the production of mold. Or in a worse scenario you will have drops of water in the container. However you need to consider also something else.
Keep in mind that if you have a big difference in temperatures between home and fridge there is a much higher risk of having mold or drops of water falling in your flour. I personally try to avoid the usage of the fridge unless temperatures are going very very high.
To properly store flour and avoid bugs using the fridge ideally you should use vacuum-sealed containers. If not possible than at least use air-tight, sealed container.
Can I use the freezer to properly store flour?
If the fridge is not a good idea to store flour, how the freezer can be?
According to somebody, on one hand it will prolong the life of the flour while preserving its technical aspects. On the other hand very low temperatures will kill bug eggs eventually already in flour.
Especially this last aspects may be interesting for us. When we buy flours in super markets we cannot be sure they were stored properly. Also if you are lucky enough to buy directly from the producers you can be unlucky (very rare but still possible). Therefore you can kill all the bugs having the flour spending a few days in the freezer just after you buy it.
But, here the risk is also that you are potentially modifying the flour. So, again, I think is not a good idea to store flour in freezer.
Let alone that when you put something in freezer it will get a kind of thermal shock. Once again you can have water drops forming and we don't like that in flour. This is something you can overcome using vacuum-seal the container. But I know this is not something that everybody can do. Maybe you can then have the flour first in fridge and then in freezer to help the temperatures to go down slower. But again, I don't really recommend freezer.
Conclusion: what are best steps to follow to store flour and reduce risks of bugs
So, let me try to arrange a list of steps to follow to properly store flour.
If you can, don't buy big quantity;
if you have a cellar with stable and not high temperature consider it as your best place to store flour;
move flour in air-tight, sealed glass jars;
keep the flour in dark place;
if you store the flour at home find a place with stable temperature that is under 22 °C (or ~72 °F);
try to avoid usage of fridge or freezer.
Did you like this blog post? Leave me a comment and share it on social media! You can also subscribe to my newsletter to be notified about upcoming pizza secrets sharing: